Prepare for a Career in Ministry, Christian Education, and More with Liberty's Bachelor of Science in Christian Studies Degree
Liberty University's Bachelor of Science (BS) in Christian Studies is designed to offer you a broad, well-rounded education in preparation for a wide range of ministry opportunities. By completing this program, you can become equipped to serve in Christian education, missions organizations, parachurch ministries, church leadership, and more! Additionally, if you later want to attend graduate school or seminary, this Christian studies degree offers a solid undergraduate foundation for advanced studies.
Throughout this program, you'll take a mix of courses in apologetics, biblical interpretation, theology, and ministry. As you explore important aspects of Scripture and develop practical ministry skills, you can prepare to make a difference in your local church and other ministry settings. The bachelor's degree in Christian studies is also a great option if you're still figuring out your future career path. By studying a wide range of topics and honing your knowledge in a variety of areas, you can develop a strong skill set that may serve you well in many different job opportunities.
Partner with us and prepare to live in service to God and others with a bachelor's degree in Christian studies from Liberty!
Please note: This degree requires students to obtain 1 divinity minor and strongly encourages students to pursue a second divinity minor, a minor from another school in the university, or a second major.
---
Award-Winning Campus
At Liberty, you'll find an affordable, high-quality education that equips students like you for the real world. Our commitment to excellence helped us rank among Niche.com's Top 5 college campuses in America. Earning your degree from a nonprofit university with state-of-the-art resources like ours can help set you apart from your peers.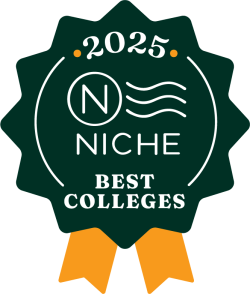 ---
Why Choose Liberty's Bachelor's Degree in Christian Studies?
Our bachelor's degree in Christian studies is one of the most flexible divinity degrees we offer, giving you the opportunity to take multiple free elective courses in areas that interest you. As a Christian studies student, you'll complete 1 divinity minor in addition to your degree. The credits from this minor can count toward your free elective hours, and you'll still have room to take additional elective courses in divinity or in another area of study entirely! These free electives may also be used to fulfill requirements toward a second minor or double major – so you can make the most of your education and develop the specific skill set you need for your career.
At Liberty, one of our most valuable assets is our faculty. Our professors have advanced degrees in their fields as well as years of real-life experience in ministry. They actively participate in research and writing in addition to teaching in the classroom – and they are excited to come alongside you as you seek to fulfill God's calling on your life.
As part of our mission to Train Champions for Christ, we seek to offer world-class resources that can help prepare you for your future endeavors. The Freedom Tower – which is home to our John W. Rawlings School of Divinity – houses some of the latest technology as well as a vast scriptorium. The Scriptorium features numerous rare books and Bibles – some dating back to the 1500s – as well as a life-size replica of the Gutenberg printing press. Additionally, our interactive multimedia screens can help you research particular sections of books and ancient texts. With resources such as these, you can deepen your understanding of both Scripture and the history of Christianity.
---
What Will You Learn in Our BS in Christian Studies Degree?
Some of the topics covered in this program include biblical interpretation, Old and New Testament theology, and spiritual foundations for the Christian life. You'll also explore important aspects of church ministries, including the biblical and theological underpinnings of discipleship and ways to foster spiritual development in your congregation.
From there, you can choose to study either the mission of the church or the history of doctrinal developmental within the Christian church. Your major foundational courses will explore topics such as apologetics, cultural engagement, the search for meaning, and intercultural communication. To round out the program, you will complete a capstone course designed to help you grapple with some of the most difficult questions in the Bible and theology. Your capstone will also help you apply your religious education to real-life ministry situations.
As a student in the Christian studies program, you will pursue 1 divinity minor in addition to your degree – and the credits from your minor can count toward the free elective section of your Christian studies degree. Completing a minor gives you the opportunity to expand your knowledge and dive into a specific area that interests you. We offer many different divinity minors such as biblical studies, apologetics and cultural engagement, global studies, pastoral leadership, youth ministries, and more. After completing your divinity minor, you'll still have room left for additional free elective courses – giving you the freedom to further your divinity studies or branch out into another area entirely!
Review the Degree Completion Plan, and check out our featured courses below to learn more about what you'll be studying!
Featured Courses
BIBL 350 – Introduction to Biblical Interpretation
BIBL 460 – New Testament Theology
CHMN 201 – Introduction to Church Ministries
THEO 350 – Methods and Issues in Theology
Highlights of Our Christian Studies Major
Our John W. Rawlings School of Divinity professors are active in the classroom as well as in research and publishing original works.
The School of Divinity is committed to the authority of Scripture and conservative evangelical theology.
Benefit from the teaching and professor involvement of a small Bible college combined with the experience and amenities of a large university.
The Freedom Tower, home to the School of Divinity, houses a 7-projector immersive classroom, an interactive meeting space that utilizes teleconferencing capabilities, and a state-of-the-art homiletics teaching lab.
The Rawlings Foundation's rare book collection is valued at over $1 million and contains a 111-foot-long Torah scroll dating back to the 16th century and a functioning Gutenberg Printing Press replica.
Bachelor's Degree in Christian Studies Information
Residential
120 total credit hours
Transfer in up 75% of your total degree
This program falls under the John W. Rawlings School of Divinity
View the Degree Completion Plan
View our course catalog
Please note: This degree requires students to obtain 1 divinity minor and strongly encourages students to pursue a second divinity minor, a minor from another school in the university, or a second major.
What Can You Do with a Christian Studies Degree?
In addition to equipping you for graduate school or seminary, our bachelor's degree in Christian studies can help prepare you for a career in the following areas:
Christian education
Church leadership
Evangelism
Missions
Parachurch ministries
Admission Requirements for Liberty's Undergraduate Degrees
Every application is reviewed by the admission committee on a case-by-case basis, meaning there are no set minimums for acceptance. However, all applicants must submit the following documents* for admission:
Admission application
Official high school transcripts
Official college transcripts (if applicable)
Results from the CLT, SAT, or ACT are not required for admission, but may be used in consideration for merit-based aid.
Admission essay
*Note that additional documentation may be requested by the admission committee after your application has been received.