Enrich Ministries with a Degree in Christian Leadership and Church Ministries: Technical Studies
Are you excited about the idea of serving God in a church ministry setting? If so, then Liberty University's Bachelor of Science in Christian Leadership and Church Ministries: Technical Studies degree may be the best fit for you! You'll get all the knowledge and skills you need to pursue a leadership or support role in the church or ministry of your choosing.
You're probably wondering what types of ministry roles this degree will open up for you. Aside from preparing you to enter seminary school, you'll be ready to pursue multiple job opportunities in ministry upon graduation. You may go into church administration, camp ministry, or operations. The great thing about this degree is that in addition to the leadership and ministry training you receive, you're also learning a valuable skill like electrical, woodworking, or plumbing with the technical studies focus.
So what are you waiting for? Churches and ministries all over the world need people like you who are passionate and excited about reaching others with God's Word. With this degree, we're going to partner with you to give you all the training you need to be a successful leader in ministry.
Award-Winning Campus
At Liberty, you'll find an affordable, high-quality education that equips students like you for the real world. Our commitment to excellence helped us rank among Niche.com's Top 5 college campuses in America. Earning your degree from a nonprofit university with state-of-the-art resources like ours can help set you apart from your peers.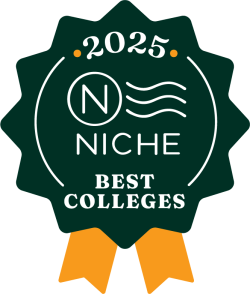 ---
Why Choose Liberty's Christian Leadership and Church Ministries: Technical Studies Degree?
By choosing to pursue your degree with Liberty University, you're choosing to study a Christ-centered and challenging curriculum. You're choosing to learn from ministry professionals. You're choosing to have access to diverse, worldwide internship opportunities and state-of-the-art resources.
Let's start with our professors. These men and women have real-life experience in ministry, planting and pastoring churches, directing camp ministries, authoring Christian books, and leading biblical archaeological expeditions. Plus, they've completed doctorate degrees in ministry-related fields, or they're currently working on it. And the best part is that they're excited about pouring into you—the next generation of Christian leaders—as they mentor, teach, and guide you while you're studying with us.
As far as other benefits of the program, you'll have access to all our equipment and resources like our homiletics lab and massive scriptorium. Additionally, you'll enjoy participating in a church ministry practicum, and maybe even an internship around the globe with a church, parachurch, or nonprofit organization. In other words, you'll be fully equipped to start pursuing ministry once you graduate.
---
What Will You Learn in Our Christian Leadership and Church Ministries: Technical Studies Degree?
All of our degrees provide the foundational knowledge you need to excel in your chosen career field. We're excited that our Christian leadership and church ministries: technical studies program is no different. You're going to understand what it means to be in church leadership, as well as learn a valuable technical skill to make yourself more marketable.
The major's core courses show you what it is to be a leader in the church, as well as give you real-life experience through a church ministries practicum. Some of the topics you'll study include apologetics, inductive Bible study, business law, ministry programming, discipleship, and leadership skills.
If you pursue our technical studies concentration, you'll have the opportunity to learn a valuable skill like:
Carpentry
Electrical
HVAC
Plumbing
Welding
Review the Degree Completion Plan, and check out our featured courses below to learn more about what you'll be studying!
Featured Courses
CHMN 201 – Introduction to Church Ministries
Here's what you'll learn:
A practical study of church ministry with emphasis given to the following: biblical foundation, philosophy of ministry, and various areas of ministry
The ministry is considered as a calling and a career
CHMN 360 – Foundations in Ministry Programming
Here's what you'll learn:
The foundational components of church ministries programming
Developing a philosophy of ministry
Ministry assessment
Calendar planning
Budgeting
Leadership development
Safety issues
CHMN 447 – Discipleship in Church Ministries
Here's what you'll learn:
An investigation of the factors which influence spiritual development
Exploring the biblical and theological foundations for discipleship
Making application to the discipleship process
CLED 365 – The Personal Life of a Leader
Here's what you'll learn:
How to examine the life of the leader
How to develop individual leadership skills
The ordering of one's private world
The personal character of the leader
Becoming a leader that lasts
---
Highlights of Our Christian Leadership and Church Ministries: Technical Studies Degree
John W. Rawlings School of Divinity professors are active in the classroom, as well as in research and publishing original works.
Our School of Divinity is committed to the authority of Scripture and conservative evangelical theology.
Benefit from the teaching and professor involvement of a small bible college with the experience and amenities of a university.
Internship opportunities with churches and parachurches locally, nationally, and globally.
The Freedom Tower, home for the School of Divinity, houses a 7-projector immersive classroom, an interactive meeting space that utilizes teleconferencing capabilities, and a state-of-the-art homiletics teaching lab.
The Rawlings Foundation's rare book collection is valued at over 1 million dollars and contains a 111-foot long Torah scroll dating back to the 16th century and a functioning Gutenberg Printing Press replica.
Christian Leadership and Church Ministries: Technical Studies Degree Information
Career Opportunities for Christian Leadership and Church Ministries: Technical Studies Graduates
Camps director
Church administrator
Ministry associate
Ministry director
Operations specialist
Admission Requirements for Undergraduate Degrees
Every application is reviewed by the admission committee on a case-by-case basis, meaning there are no set minimums for acceptance. However, all applicants must submit the following documents* for admission:
Admission application
Official high school transcripts
Official college transcripts (if applicable)
Results from the CLT, SAT, or ACT are not required for admission, but may be used in consideration for merit-based aid.
Admission essay
*Note that additional documentation may be requested by the admission committee after your application has been received.