Your Coaching Career Is a Degree Away with Liberty
Your passion for sport and athletic training can be used for an exciting career in coaching. Imagine being paid to help students of all ages as they discover their potential. Be an important part of their journey as you spend time training, encouraging, and pushing them further than they ever thought they could go. If this seems like rewarding work, our bachelor's degree in coaching may be for you!
At Liberty, we want our coaching degrees to provide students like you with more. Our courses focus on coaching specific sports, as well as general fall and spring sports. You will also be equipped to use communication technology in your work, as well as vital business principles in marketing and finance. Graduate with a degree that prepares you for all areas of coaching, from administration to teaching.
Whether you aspire to be the next great high school basketball coach, or you want to become the athletic director for a sports organization, our bachelor's in coaching can help. Let us partner our passion with yours as you develop the skills you need to open the door of opportunity in the competitive field of coaching.
---

Award-Winning Campus
At Liberty, you'll find an affordable, high-quality education that equips students like you for the real world. Our commitment to excellence helped us rank among Niche.com's Top 5 college campuses in America. Earning your degree from a nonprofit university with state-of-the-art resources like ours can help set you apart from your peers.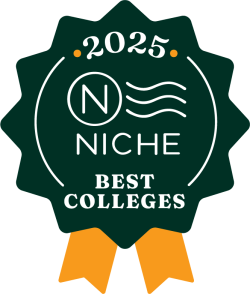 ---
Why Choose Liberty's Bachelor's Degree in Coaching?
Prepare to make an impact in the sports industry by earning Liberty's B.S. in Coaching! We strive to provide our students with the best resources we can to promote learning and increase comprehension. Our team of experienced and degreed faculty are excited to meet you and invest in your career goals. Partner with us to open the door to more opportunities to grow and advance your future in coaching.
When it comes to hands-on learning, we've got you covered. Students in our coaching program complete an internship in their desired field to boost their resume and increase their experience. At Liberty, we offer over 100 student-led clubs and organizations for you to choose from. Get involved in our Athletic Training Student Association to start networking with peers and professors who share your passion for sport and athletic training.
Additionally, we offer opportunities to increase your marketability by adding a minor related to your career goals. If you are interested in broadening your expertise to administrative or ministry roles, we offer minors in sport management, as well as sports outreach. Enhance your degree by taking courses that highlight your specific passions, while completing your major-focused courses to open up a wide range of career opportunities.
---
What Will You Learn in Our Coaching Bachelor's Degree?
Pursuing our B.S. in Coaching provides students like you an extensive overview of the major aspects of a career in sport and athletic coaching. In addition to courses in coaching sports like football and basketball, you will learn how to lead and manage your team. With courses in business and sport finance, you will have a greater awareness of how to be a good steward with the funds allocated for your team.
Additionally, our coaching degree emphasizes motor learning and exercise psychology. This provides another dimension to your degree, by helping you see your training as a science that can enhance athletes overall quality of life. Combine that understanding with your ability to motivate and lead a team, and you will be unstoppable.
View the Degree Completion Plan, and check out our featured courses below for more information!
Featured Courses
PHED 208 – Motor Learning
A study of the principles involved in the development of human motor/sport skills.
Instructional emphases focuses on the processes underlying skilled performance and the application of principles of skilled performance and learning in teaching, coaching, and rehabilitation settings.
SMGT 300 – Introduction to Coaching
An overview of the roles, qualifications, responsibilities, and skills required of coaches during the season and off-season.
Issues affecting coaches both on and off the field will be addressed.
SMGT 314 – Coaching Dynamics
A study of rules, game procedures, methods, and practices in officiating athletic activities, as well as instruction on video editing technology and film breakdown for a variety of sports.
Students will also acquire certification in CPR, AED, and First Aid related to coaching.
SMGT 400 – Sport and Exercise Psychology
This course is designed to provide students with an in-depth view of the theoretical and applied aspects of the psychology of sport and exercise.
The emphasis is on providing knowledge and skills necessary to improve athletic performance, enhance health and well-being, and understand personal and situation variables in the exercise environment as related to the psychological development of the individual.
Highlights of Our Coaching Bachelor's Degree
Opportunities to increase your marketability with minors in sport management and sports outreach.
Over 100 student-led clubs and organizations to get plugged into, including our Athletic Training Student Association.
Our degreed professors with years of field-related experience are in the classroom every week, working hands-on with their students.
You will complete an internship to gain invaluable training and resume experience.
Our coaching degree offers a broad range of courses, from leadership to strength and conditioning, so you can be equipped for a wide array of careers in the field of athletics.
Coaching Degree Information
Career Opportunities for Coaching Graduates
Liberty University's Bachelor of Science in Coaching prepares you for the following occupations:
Athletic Department Manager
Coach
College Athletic Recruiter
Scout
Sport Marketer
Admission Requirements for Undergraduate Degrees
Every application is reviewed by the admission committee on a case-by-case basis, meaning there are no set minimums for acceptance. However, all applicants must submit the following documents* for admission:
Admission application
Official high school transcripts
Official college transcripts (if applicable)
Results from the CLT, SAT, or ACT are not required for admission, but may be used in consideration for merit-based aid.
Admission essay
*Note that additional documentation may be requested by the admission committee after your application has been received.