Marching Band
The Spirit of the Mountain
The Liberty University Marching Band is an exciting company of brass, woodwind, and percussion instrumentalists, accented and accompanied by a full-color guard. In true drum corps style, The Spirit of the Mountain maintains the highest level of excellence, discipline, and musicianship.
Sporting uniforms of red, white and blue, the Band is a favorite at home football games, as guests at football games in other stadiums, and as featured performers in community events. The Spirit of the Mountain has appeared in the Macy's Thanksgiving Day Parade, at the New York Giants Stadium in the Meadowlands for 80,000 spectators, and at colleges and universities throughout the Eastern United States.
---
Shoe and Glove Requirement – buy now!
The Liberty University Marching Band is pleased that you will soon wear our very sharp and state-of-the-art uniforms. While the uniform (jacket, trousers, shako & plume, gauntlets, rain gear) is provided by the band, all members are required to purchase their own BLACK gloves and "Drill Masters" black shoes (sorry, no other shoe is accepted that you may have had from high school, even if they are rather new). We have required these shoes for a few years now, and it presents a professional appearance. Please order your shoes from a vendor of your choosing, such as Bandshoppe.com. Gloves may be any brand, cotton or grip, etc.
Our guard section will place a separate order for their unique footwear and gloves.
You may also contact Aliza Nogueras, Head Field Commander, at amnogueras@liberty.edu for more information.
Our local music store, Lynchburg Music Center, will also offer these shoes and gloves for sale at band camp check-in. Prices may vary. We very much prefer, however, that you arrive at band camp, already owning your shoes and gloves.
---
Application and Audition
Apply and Audition to be a member of The Spirit of the Mountain in three easy steps: Application, Audition, and Scholarship — all online!
The final deadline to secure your position in the show drill is June 1 — please apply in advance to allow time to complete the application and audition process.
If you have more questions, you can send an email to spkerr@liberty.edu or band@liberty.edu.
Fall 2020 Marching Band Percussion auditions will consist of a video submission that is due on Friday, April 3rd, by 5pm.  Audition music has been uploaded to the audition page.  Please email Tommy Goddard, tpgoddard@liberty.edu, for any questions you may have.
Fall 2020 Color Guard auditions will consist of a video submission that is due on Saturday, April 4th, by 11:59pm.  Please email Bryanna Boyd, brtester@liberty.edu, for more information.
Marching Band Promotional Video
Learn more about our program and what it means to be a member of The Spirit of the Mountain.
---
---
Contact
---
Past Themes
View a list of our past show themes
---
Fall 2019 Show – Take Me Home
America – by Simon & Garfunkel

Sweet Home Alabama – by Lynyrd Skynyrd
Hawaii Five-O– by Morton Stevens

Carry On My Wayward Son – by Kansas
The Devil Went Down To Georgia – by Charlie Daniels

Take Me Home, Country Roads – by John Denver

New York State Of Mind –as performed by Billy Joel

Party In The USA – as performed by Miley Cyrus

America The Beautiful – by performed by The Troupers Drum Corps
---
Fall 2018 Show – I Got Rhythm!
Sing, Sing, Sing – by Benny Goodman

Can't Stop Believin' – by Journey

I Got Rhythm – by George Gershwin

I Wanna Dance With Somebody – by Whitney Houston

Rhythm/Fight Club– by Cavaliers Drum Corps
Can't Stop The Feeling – By Justin Timberlake
Everything Must Change – as performed by The Blue Devils
Unchained Melody – by Graeme Koehne
---
Fall 2017 Show
Feelin' Good
"The Spirit of the Mountain" is pleased to announce our 2017 show entitled: "Feelin' Good." 
The show features pieces on the theme of good times, including music from Appalachian Spring as well as music from recent popular musicians, including:
Promise of Living by Aaron Copland
Feelin' Good by Michael Buble'
I Feel Good by James Brown
Shout by The Isley Brothers
I Got A Feelin' by Blackeyed Peas
Goot Time by Owl City & Carly Rae Jebsen
Boogie Woogie Bugle Boy as performed by American Revival
Simple Gifts by Aaron Copland
Ode To Joy by Ludwig van Beethoven
---
Fall 2016 Show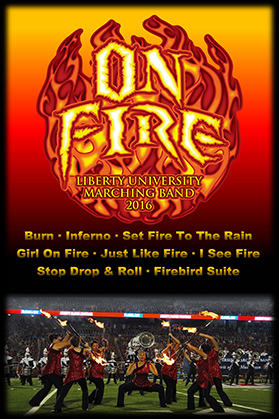 On Fire
"The Spirit of the Mountain" is pleased to announce our 2016 show entitled: "On Fire."
The show features pieces on the theme of fire & flames, including music from the Firebird Suite as well as music from recent popular musicians, including:
Burn by Ellie Goulding
I See Fire by Ed Sheerin
Inferno by Robert W. Smith
Set Fire To The Rain by Adele
Girl On Fire by Alisha Keys
Just Like Fire by Pink from
Stop, Drop & Roll by Tyler Loftin
Firebird Suite by Igor Stravinsky
---
Fall 2015 Show
Light Up the Night
"The Spirit of the Mountain" is pleased to announce our 2015 show, "Light Up the Night!" This season's show features songs about night time, stars, and the sky. The show features several pop tunes, as well as some traditional band and orchestra music that both the crowd and band members will love, including:
A Sky Full of Stars by Coldplay
Moondance as performed by The Cadets
Fly Me to the Moon by Frank Sinatra
Firework by Katy Perry
Mars and Jupiter from The Planets by Gustav Holst
Counting Stars by One Republic
On Top of the World by Imagine Dragons