Band Parents' Day
Band Parents Day + Letter from the Director
We are excited about the members of the Liberty University Marching Band this fall, and their parents and families who support their sons and daughters while they attend Liberty and perform in our band!  Parents, will you please read this Band Parents letter for information about this fall, our schedule, and Band Parents' Day?
Band Parents' Letter from the Director (and Parents' Day Info) Coming Soon!
Parents' Day Invitation Letter 2019
NEW THIS FALL: Band Parents' Day will be held on Saturday, September 28, beginning with a Luncheon Banquet.  More detailed information will be provided mid-summer.  Please see the schedule below.  Also, please be aware of our performance on November 30, two days after Thanksgiving Day – all members are required to perform.  Thank you.
Band Parents' Day
We are excited to offer an excellent means of attending a Liberty University Marching Band performance is by participating in Band Parents' Day. Our 31st Annual Band Parents' Day on (Saturday only this year) is scheduled this year on Saturday, September 28, 2019, and I would like to take this opportunity to invite you to attend. This is always one of the highlights of the marching season, and I am inviting all band members' parents and their families to participate. Your day will be filled with activities that will give you an excellent idea of the varied schedule involved during our typical game days. We will begin with check-in at 12:00 p.m. on Saturday, Sept. 28 at the Montview Alumni Ballroom, followed by a Luncheon Banquet in the same location at 1:00 p.m. Also on Saturday, you will be participating in our devotional period with Jonathan Falwell, pastor of Thomas Road Baptist Church in the School of Music Concert Hall. Our time together will focus on the spiritual theme of the season. We will then attend the football game in Williams Stadium, where Liberty University will face New Mexico, and you will have reserved seating in the stadium together with the rest of our band families. Our day will conclude with our march back to the Band Room after the game.
Cost
The cost for the Saturday Luncheon Banquet and all Saturday activities is $34.00 for each adult, $20.00 for youth ages 6-18, and free for children to age 5. The Band Parents' Day ticket includes dinner banquet, the packet for the day, memorabilia, and football game admission. Band members who are planning to attend the banquet will be charged $20.00.  Please know that the cost is based on group pricing discounts, and we are not able to offer portions of the weekend "a la cart." We usually have 500+ persons in attendance for the day, so don't miss out! Please order your tickets by August 28, 2019, on our website at www.liberty.edu/bandparents or at the link below.  If you have any questions, please contact the band office.
Lodging
VERY IMPORTANT.  Please make your hotel reservations now. Hotel rooms will fill up soon! You can find current information for local hotels at the following link on our website: Local Accommodations.
You can find a current link to Local Accommodations in our area below.
Final Ticket Purchase Deadline: August 28, 2019
(The Following Link is now closed)
Register for Band Parents' Day and purchase tickets here*
*The Band Parent's Day package cannot be divided up. If you are only able to attend some Saturday events and will miss the banquet, you will still be required to purchase the package as a whole.
---
Band Parents' Day Schedule
September 28, 2019
(revised 9/3/19)
9:45 AM   |          Band members rehearse in Stadium (sorry, the stadium closed to spectators)
12:00 PM   |          Check-in, receive tickets/packet (Montview Alumni Ballroom)
1:00 PM  |          Band Parents' Banquet (Montview Alumni Ballroom)
3:00 PM   |          Uniform Distribution for all Band Members (Uniform Room)
4:00 PM   |          Devotions in the School of Music Concert Hall
4:40 PM   |          Inspection for Band Members (School of Music Building)
4:50 PM   |          Band Members depart from School of Music
5:00 PM   |          Perform at Tailgating
5:10 PM   |          Depart for Hancock Welcome Center
5:20 PM   |          Warm-Up Arc at Hancock, back terrace patio
5:50 PM   |          Pregame Show (to press box side)
6:00 PM   |          Liberty University vs. New Mexico
HALFTIME |       The Marching Band Halftime Show will be performed toward the student side of the
stadium where you will have excellent seating in the upper/middle of the new stands.
Band Parents' Day Map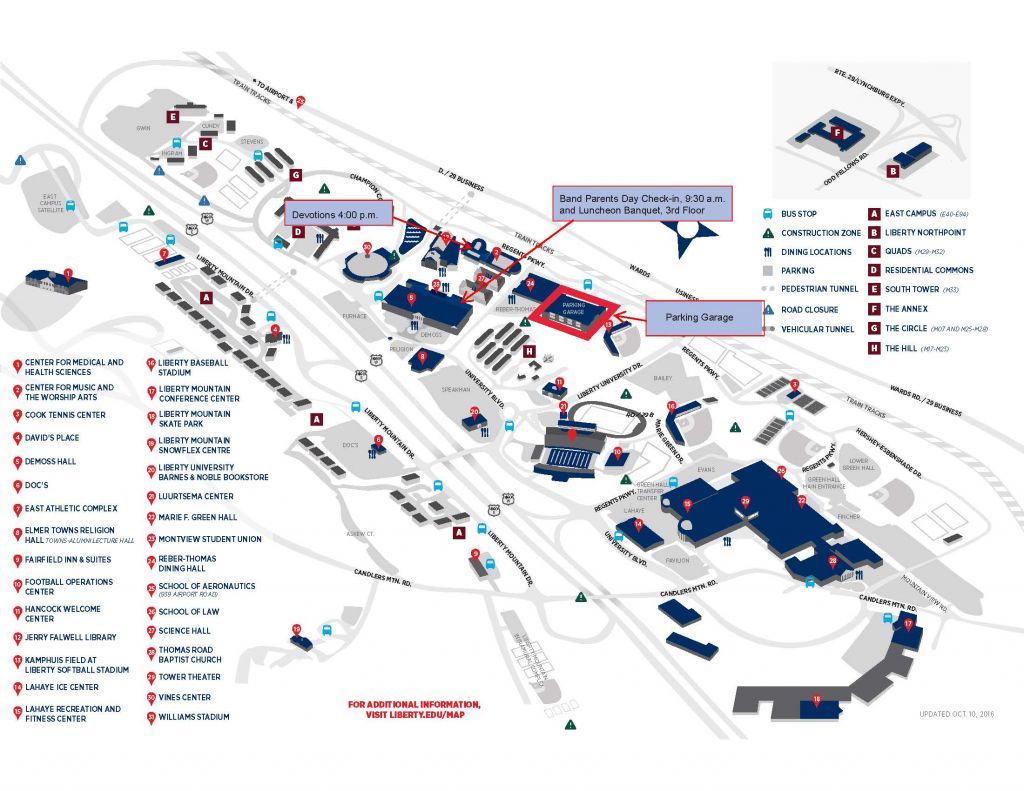 Local Accommodations/Visitors Guide*
View a detailed list local lodging at Visitors Guide.