The Department of General Math and Science oversees developmental math courses, general education mathematics, and service courses in math and related areas (physics, physical sciences, etc.).
---
A.S. in STEM Mathematics
The Associate of Science in STEM Mathematics is designed to equip students with the right mix of computing and mathematical skills to prepare them for academic and professional success in the fields of science, technology, engineering, and mathematics.
Our degree presents the basic concepts and methods in modern mathematics to develop your ability to think critically and apply advanced concepts to various disciplines. If your career path is still unclear, an associate degree in STEM Mathematics provides the foundational credentials and training you need for success in a wide range of careers.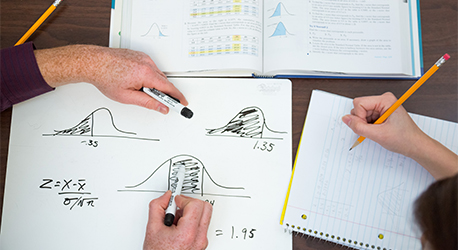 ---
Developmental Math
The Department of General Math & Science offers residential and online developmental math courses, including:
Fundamentals of Mathematics (MATH 100)
Algebra for Non-STEM Majors (MATH 105)
Intermediate Algebra (MATH 110)
Learn more about Developmental Math.