Infectious and Communicable Disease Prevention

Keeping You and Our Campus Safe from Infectious Diseases
Communicable diseases spread from one person to another. Some of the common ways they are transmitted are through:
Breathing in an airborne virus
Contact with blood or other bodily fluids
Being bitten by an insect
See below for information on common communicable or infectious diseases found on university campuses. You'll find an overview of each and its prevention, symptoms, diagnosis, and treatment.
---
Coronavirus disease (COVID -19) SARS-CoV-2 virus
People infected with COVID-19 may experience symptoms like the flu or pneumonia. Your primary healthcare provider is your best resource if you become ill. Visit the Center for Disease Control (CDC) COVID-19 website for the latest on vaccines, testing, quarantine, and travel.
Symptoms requiring immediate care
Influenza (Flu)
Influenza (flu) is an upper respiratory infection that affects the throat, nose, and sometimes the lungs. Cases can be mild to severe. Adults and children with chronic illnesses and adults 65 years and older are at higher risk for developing flu. The four types of flu are A, B, C, and D. Flu A and B viruses cause seasonal epidemics of disease. Flu C generally causes mild illness and is not thought to cause human outbreaks. Flu D primarily affects cattle and is not known to infect or cause disease in people. People with flu are most contagious in the first 3-4 days after their illness begins.
Monkeypox
Monkeypox is a rare viral disease. The virus is part of the same family that causes smallpox. Monkeypox symptoms are like smallpox symptoms, however they present to be much milder. The disease is rarely fatal and is not related to chickenpox. The source of the disease is unknown however, rodents and primates are known to harbor the virus and infect people.
Mononucleosis (Mono)
According to the Center for Disease Control, mononucleosis, also known as mono, is a contagious disease. Epstein-Bar virus (EBV) is the most common cause of infectious mononucleosis, but other viruses can also cause this disease. Mono is common among teenagers and young adults—especially college students. According to the CDC, at least one out of four teenagers and young adults who get infected with EBV will develop infectious mononucleosis.
Streptococcal pharyngitis (Strep)
Streptococcus pyogenes, which are also called group A streptococcus (group A strep), cause acute pharyngitis known as strep throat. Strep pharyngitis is an infection of the oropharynx caused by Streptococcus pyogenes. Streptococcus pyogenes are gram-positive cocci that grow in chains. They exhibit B-hemolysis when grown on blood agar plates. They belong to group A in the Lancefield classification system for B-hemolytic streptococcus and thus are called group A streptococci.
Send a Get Well Package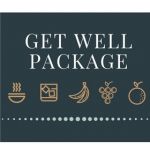 We understand it is hard when someone you know is sick.
That is why Sodexo has put together the Get Well Package. Filled with Campbell's Chicken Noodle Soup and crackers, Powerade, Orange Juice, Ginger Ale, cough drops, Blistex Lip Balm, Kleenex, and Clorox Wipes, this package is sure to uplift someone's spirit!