Scott Hayes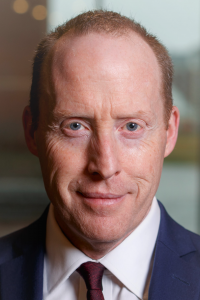 Dean, School of Communication & the Arts
Education
Ph.D. in Communication, Regent University
M.F.A. in Theatre, Florida State University/Asolo Conservatory of Actor Training
B.F.A. in Theatre, University of California at Santa Barbara
Liberty Administrative Work
Curricular innovation and restructuring. Tasked with creating the School of Communication and the Arts (SCA). Worked with faculty to develop new degrees, including Master of Fine Arts and Bachelor of Fine Arts degrees. Created praxis-based SCA concentrations within other schools at Liberty.
Student success. Increased funded faculty/student collaborative research through the Center for Research and Scholarship, aligning creative arts with traditional research. Encouraged global citizenry through LU Send Short Term Partnerships and Liberty/the University of Richmond (London) dual MFA/MA.
Facility Improvements. Worked with school leadership, Budget, Planning and Construction, and the Provost's office to plan and build new facilities (art museum, student marketplace gallery, black box theatre, digital production studios/sound stages, radio station, digital projection theatre, staging/maintenance facilities, digital media/graphic design computer labs, and dance, acting, sculpture, ceramic, painting, and photography studios).
Applied/Professional Work
Member, Actors Equity Association and Screen Actors Guild/American Federation of Television and Radio Artists
Editorial board, "Southern Theatre" magazine.
Book editor, "Uncle Arthur: The California Connection" (2011) and "Your Affectionate A: Sir Arthur Sullivan's Letters to His Family" (2015).
Playwright/adaptor: "Steinbeck's Return to Pacific Grove," "Searching for His Heart," "His Eyes of Love," "Redeeming Love," and "The Joseph Secret." Dr. Hayes's small-cast Shakespeare adaptations have been produced around the United States.
Director: multiple merit awards for excellence in directing from the Kennedy Center American College Theatre Festival, including a national Distinguished Production of a New Work for "Bloodroot: Ballad of Clinch Mountain."
Chair, Faith and Theatre Committee, Southeastern Theatre Conference.