Peer Health Education
Purpose
Provide peer health education as a service to all residential students in order to equip, educate, and empower them in developing and maintaining a healthy lifestyle.
What are Peer Health Educators?
Peer Health Educators (PHEs) are students who are dedicated to teach and inspire Liberty students about various health and wellness topics to live a life glorifying to God. The topics may include:
Stress management
Sleep
Nutrition
Physical activity
Relationships
Join the Discussion!
Live, learn, and lead healthy lives. Join your peers and discuss important health topics that will keep you accountable in establishing goals, improving and maintaining wellness, while inspiring others in your success.
Groups will meet for a minimum of 5 times during the semester.
Join a Peer Health Education group and participate in the movement to expand your knowledge and initiate change.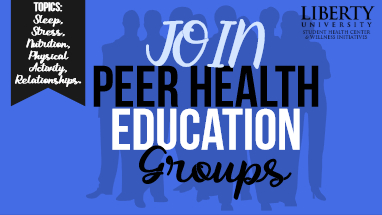 If you have any questions, please email healthandwellness@liberty.edu.
---
Want to become a Peer Health Educator?
Benefits of becoming a PHE
Gain leadership experience
Increase in health education knowledge
Improve interpersonal skills
Develop as an effective communicator
Enhance professional development
Requirements
Sophomore standing or higher can apply
Minimum GPA of 2.5
Peer Health Educators are required to commit to at least one academic year and approximately 2-3 hours per week
Apply Now!
Application to be a Peer Health Educator for the 2019-2020 academic year is open!
Please use the link below to complete an application.