Employees of the Month
Top Employees of November 2022
Mark Hyde
Student Affairs
Dean of Students
Mark Hyde was promoted to Dean of Students on Nov. 7, 2022, and has served in Student Affairs since 2004. His investment in students and his team over the years definitely impacts eternity. We are so pleased the Lord ordered his steps to Liberty University. Please join us in congratulating Mark in a well-deserved promotion.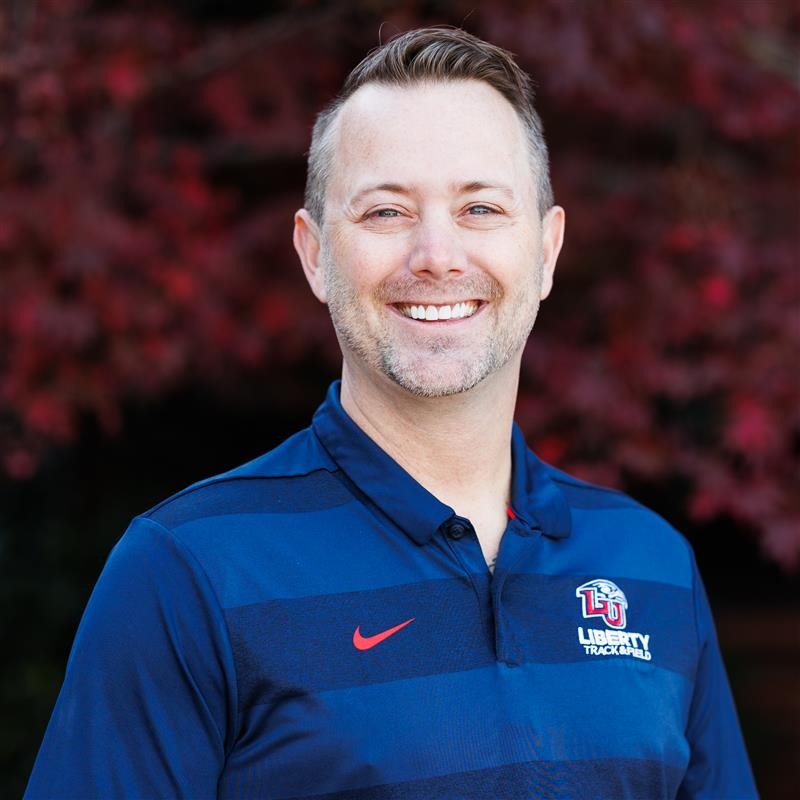 Shawn Venable
Flames
Associate Head Coach of Track & Cross Country
Shawn Venable is a godly leader in our track & field program, and he does an outstanding job developing Champions for Christ. He is the program's recruiting coordinator and has been instrumental in bringing elite young men and women to Liberty.
Brayden Hogan
Facilities Management
HVAC Tech
Brayden Hogan has been working with Liberty in the maintenance department since 2013. He is a dependable, all-in kind of employee that managers love to have on their team. He's a hard worker who enjoys his job and the people he works with. Brayden is engaged to Allison, and they are getting married in April 2023. He has a dog he loves being with on his days off, and he enjoys working on cars, trucks, or bikes. He really loves being outside and has a bit of a daredevil streak — if it's dangerous, he's the first in line! Brayden is a large part of the maintenance group, and Liberty is a better place because he's here. Congratulations, Brayden, on a fantastic job!                          
Austin Clark
Facilities Management
Electrical Tech III
Austin Clark has been with the Liberty family for over three years and came to us from Texas. He is an electrician tech III and adds a lot to the team he works with. He's really stepped up this past summer with the large volume of work Electrical had, including some very large projects. Austin is reliable and hardworking and is in school to get his electrician's license. He has been married to his wife, Amanda, for two and a half years, and in his free time he enjoys hiking and hunting. Thank you, Austin, for all your hard work. Congratulations; you deserve it!
Glenn Anderson
LU Police Department
Detective
Detective Glenn Anderson has been fighting cancer. During this time, he has remarkably continued to show us his utmost professionalism and dedication to his work. His positive attitude is contagious in our workplace. Anderson has never complained about his treatments and continues to show up for work with a smile on his face.
Glenn has markedly enhanced the employment background investigation process by making some critical discoveries that may have otherwise gone unnoticed. He's shown his willingness to serve in any capacity within the department, and he's delivered every single time. Glenn's expertise in interviews has developed some independent references not previously listed by candidates which have enable this agency to gain some strong candidates. We are highly privileged to have him as part of our LUPD family and thank him for being an inspiration.
Jordan Kreitzinger
Campus Recreation
Assistant Director
Jordan Kreitzinger has been a valued member of the Student Activities team since August 2021. He has overseen 100+ events, including Block Party, Homecoming, and Coffeehouse. Jordan does a great job as the face of Student Activities for all of our outside vendors, partners, and departments, and he did a terrific job this year running Homecoming Weekend. He personally planned and executed our check-in event and the parade. On event days, there is no one with a better spirit, kinder demeanor, or more focused mind than Jordan. He is quick to hop in and help anyone in need and is friendly to all who attend our events. Congrats, Jordan!
Nina Dunay
Flames
Associate Head Lacrosse Coach
Nina Dunay does a tremendous job pouring into student-athletes and contributing to an elite culture in Liberty Lacrosse. She brings a great attitude to work each day and embodies the attributes of humility, hunger, and wisdom. She is a leader in Training Champions for Christ.
Keri Alker
Registrar
Quality Assurance Specialist
Keri Alker has been on the Degree Conferral team since 2019. She started as a graduate academic evaluator and is now serving as a quality assurance specialist for both the undergraduate and graduate teams. Keri has a tremendous heart for Liberty students and pushes them to strive for excellence. In her current role, she serves her teammates with compassion and tackles obstacles with a positive attitude. She is always willing to help where needed and is often assisting with special projects to make the team's procedures better. We appreciate her humble heart and her love for the Lord as she serves at Liberty. We couldn't be more grateful to have her on the Degree Conferral team!

Kimberly Schweighart
Development
Planned Giving Annuity Trust Processor
Kim Schweighart has served in several positions since joining Liberty's staff over 10 years ago and has excelled in all of them. We were most blessed when she agreed to join our department five months ago, having already been part of our Development Division. She plays an intricate role in our day-to-day operations and has proven to be a great asset. She is dependable and always willing to do anything asked of her. Kim is a dedicated, conscientious worker and does an amazing job! We are so grateful to have her on the team.