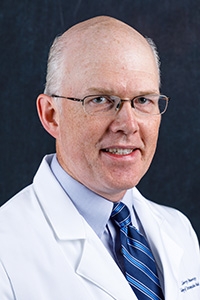 Senior Associate Dean for Clinical Affairs, Associate Dean of Graduate Medical Education, Associate Professor of Internal Medicine
Education
MD, Baylor College of Medicine
Course Taught
Osteopathic Neuromuscular Medicine
Professional Memberships
Fellow, American Academy of Pediatrics (AAP)
Fellow, American College of Physicians (ACP)
Inaugural Editorial Board Member, Journal of American Association for Physician Leadership (JAAPL)
Inaugural Senior Fellow, Society for Hospital Medicine
Biography
Dr. Brands serves as Senior Associate Dean for Clinical Affairs and is working with colleagues at Liberty to grow opportunities in clinical practice settings for clinical faculty who are engaging in medical education endeavors with students, residents and fellows across multiple clinical sites.
Prior to joining Liberty University, Dr. Brands previously served in leadership roles with Mayo Clinic and Mayo Medical School in Rochester, Minnesota, including working with colleagues in a new division focused on hospital care for patients with complex acute and chronic health care conditions. As Division Chair, he also led the Diagnostic Referral Clinic at Mayo that evaluated ambulatory patients from around the world and coordinated their care at Mayo. The division was recognized for achieving the highest levels of patient satisfaction across the entire Mayo enterprise including multiple awards for 100th percentile patient satisfaction. Dr. Brands and colleagues at Mayo also forged interprofessional pathways, facilitating groundbreaking clinical and research work culminating in publications that defined adolescent autonomic dysfunction and effective evidence-based approaches to diagnosing and treating orthostatic intolerance. Dr. Brands served as a leader at Mayo Clinic across the continuum of education including the Mayo Medical School, the School of Graduate Medical Education and the School of Continuing Medical Education, engaging with colleagues across the Mayo System.
As the Founding Director of Medical Education and the Founding Residency Program Director, Dr. Brands also served as Designated Institutional Officer overseeing the development of new medical education and clinical programs with the newly created enterprise of Johns Hopkins Medicine – Florida, established in 2011 in St. Petersburg – Tampa. Accreditations were quickly achieved for the institution's new graduate medical education enterprise and its first residency and fellowship programs, and physicians, staff, faculty, students, residents, and fellows were recruited.
Dr. Brands has been named to America's Best Doctors and his expertise as a diagnostician, hospitalist, educator and physician leader has been widely sought by patients, physicians, and colleagues.
He has enjoyed coaching and mentoring many health care professional, students, residents, fellows and faculty across his career in medicine and creating best possible experiences and outcomes in healthcare delivery systems and across the continuum of medical education.
Publications
Mahmud FH, Lteif AN, Renaud DL, Reed AM, Brands CK. Steroid-responsive encephalopathy associated with Hashimoto's thyroiditis in an adolescent with chronic hallucinations and depression: case report and review.  Pediatrics 2003 Sep; 112(3):686-90. PMID:12949305.
McGovern LM, Homme JL, Driscoll DJ, Yarbrough DE, Bower TC, Brands CK. Neisseria meningitidis endocarditis with mycotic aneurysm. Infections in Medicine 2006 May; 23(5):206-8.
Absi MA, Kin LL, Hanna A, Matthews G, Brands CK, Kortuem K, Davis M, Pane LA. Index of suspicion. Pediatr Rev 2008 Feb;29(2):61-6. PMID:18245302.
Antiel RM, Risma JM, Grothe RM, Brands CK, Fischer PR. Orthostatic intolerance and gastrointestinal motility in adolescents with nausea and abdominal pain. J Pediatr Gastroenterol Nutr 2008 Mar; 46(3):285-8. PMID:18376245.
Fischer PR, Johnson JN, Brands CK. Fatigue, exercise intolerance, and weakness: lessons on herding zebras. Minn Med 2008 Nov; 91(11):38-40. PMID:19108544.
Lai CC, Fischer PR, Brands CK, Fisher JL, Porter CB, Driscoll SW, Graner KK. Outcomes in adolescents with postural orthostatic tachycardia syndrome treated with midodrine and beta- blockers. Pacing Clin Electrophysiol 2009 Feb; 32(2):234-8. PMID:19170913.
Johnson JN, Shaughnessy WJ, Stans AA, Unruh KP, Sim FH, McIntosh AL, Brands CK, Driscoll DJ. Management of knee arthropathy in patients with vascular malformations. J Pediatr Orthop 2009 Jun; 29(4):380-4. PMID:19461381.
Johnson JN, Mack KJ, Kuntz NL, Brands CK, Porter CJ, Fischer PR. Postural orthostatic tachycardia syndrome: a clinical review. Pediatr Neurol. 2010 Feb; 42(2):77-85. PMID:20117742.
Skinner JE, Driscoll SW, Porter CB, Brands CK, Pianosi PT, Kuntz NL, Nelson DE, Burkhardt BE, Bryant SC, Fischer PR. Orthostatic heart rate and blood pressure in adolescents: reference ranges. J Child Neurol 2010 Oct; 25(10):1210-5. Epub 2010 Mar 01. PMID:20197269.
Burkhardt BE, Fischer PR, Brands CK, Porter CB, Weaver AL, *Yim PJ, Pianosi PT.  Exercise performance in adolescents with autonomic dysfunction.  J Pediatr. 2011 Jan;158(1):15-9, 19.e1. Epub 2010 Sep 1. PMID:  20813382
Kritzberger CJ, Antiel RM, Wallace DP, Zacharias JD, Brands CK, Fischer PR, Harbeck-Weber C. Functional disability in adolescents with orthostatic intolerance and chronic pain. J Child Neurol. 2011 May; 26(5):593-8. Epub 2011 Feb 07. PMID:21303761.
Antiel RM, Caudill JS, Burkhardt BE, Brands CK, Fischer PR. Iron insufficiency and hypovitaminosis D in adolescents with chronic fatigue and orthostatic intolerance. South Med J. 2011 Aug;104(8):609-11. PMID:21886073.
Macheret F, Pundi KN, Broomall EM, Davis DM, Rodriguez V, Brands CK. Empiric treatment of protracted idiopathic purpura fulminans in an infant: a case report and review of the literature.  J Med Case Rep. 2011 May 23;5:201. PMID: 21605440.
Singer W, Sleeten D, Opfer-Gehrking TL, Brands CK, Fischer PR, Low PA. Postural tachycardia in children and adolescents: what is abnormal? J Pediatr. 2012 Feb;160(2):222-6. Epub 2011 Oct 11. PMID:21996154
Hain P, Daru J, Robbins E, Bode R, Brands CK, Gosdin C, Garber M, Marks M, Percelay J, Terferi S, Tobey D. Proposed Dashboard for Pediatric Hospital Medicine Groups.  Hospital  Pediatrics 2012 April; 2:2;59-68. http://hosppeds.aappublications.org/content/2/2/59.extract
Maloney CG, Mendez SS, Quinonez RA, Bode RS, Brands CK, Eagle S, Rauch D, and Simon TD. The Strategic Planning Committee Report: The First Step in a Journey to Recognize Pedaitric Hospital Medicine as a Distinct Discipline. Hospital Pediatrics 2012:2:187.DOI:10.1542/hpeds.2012-0048. http://hosppeds.aappublications.org/content/2/4/187
Brands CK, Hernandez RG, Stenberg A, Carnes G, Ellen J, Epstein M and Strouse T. Complete self-sufficiency planning (CSSP): designing and building disaster-ready hospitals. Southern Medical Journal. Special Issue on Disaster Preparedness for Hospitals. South Med J. 2013 Jan;106(1):63-8. doi: 10.1097/SMJ.0b013e31827cb1b2.
Javed A, Leonard JM, Cramer C, Kumar S, Brands CK. Pseudohypoaldosteronism presenting with thrombocytosis and bilateral pneumothoraces in an infant. Pediatr Endocrinol Metab. 2013 Jan 17:1-3. doi: 10.1515/jpem-2012-0334.
Hernandez RG, Cowden JD, Moon M, Brands CK, Sisson SD, Thompson DA. Predictors of resident satisfaction in caring for limited English proficient families: a multisite study.Acad Pediatr. 2014 Mar-Apr;14(2):173-80. doi: 10.1016/j.acap.2013.12.002.  PMID:  24602581
Research Interests
Autonomic Dysfunction and Orthostatic Intolerance
Continuum of Medical Education including Undergraduate, Graduate and Continuing Medical Education
Health Systems Outcomes and Continuous Quality Improvement
Transitional Care Medicine