---
Advancing our osteopathic medical Champions in service to all.
The LUCOM Department of Alumni Relations exists to provide support to alumni by cultivating a mutually beneficial relationship between LUCOM and the alumni family while furthering the mission and vision of LUCOM to educate osteopathic physicians in a Christian environment.
Meet the Director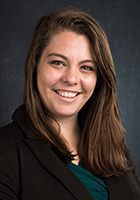 Meagan Arthur
Director of Alumni Relations
meckhardt@liberty.edu
Meagan is from Buffalo, N.Y., and graduated from Liberty University with a Masters in Human Services Counseling. Meagan began working for LUCOM in 2015 as a Student Services Coordinator. In that role, she supported students through student activities, wellness programs, and building relationships. She now works as the Director of Alumni Relations building relationships between the college and its alumni.
Stay Involved
LUCOM alumni are encouraged to connect and/or subscribe to the following.
Give Back
Giving back to your alma mater is a great way to help continue LUCOM's mission of serving others.
Alumni Benefits
View the benefits of being an alumnus of Liberty University.