Osteopathic Manipulative Medicine (OMM) Labs
The Osteopathic Manipulative Medicine (OMM) Lab is a pivotal location and component of the LUCOM curriculum. Here, as a Liberty osteopathic medical student, you will be trained in osteopathic manipulative diagnosis and treatment for musculoskeletal problems, enhancement of lymphatic and immune function, and unique approaches to organ system problems, as well as injury prevention and health enhancement. These necessary palpatory skills are useful in assisting with the diagnosis of a patient's medical condition as well as treating their musculoskeletal dysfunction.
In this educational space, LUCOM has created a learning environment where you will develop an awareness and an understanding of foundational examination and treatment skills. This establishes an understanding of the importance, and value, of the variety of diagnostic and therapeutic methods needed for practice. 
Each week you will develop psychomotor skill competence and confidence, as well as application of proficient communication for patient care by communicating professionally with each other.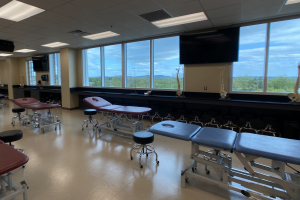 The OMM Lab comfortably accommodates over 80 student-doctors per session and is designed to hold over 40 OMM tables. Natural light is provided from large exterior windows for a comfortable learning environment. The lab is also equipped with industry-standard adjustable tables designed to accommodate your individual needs as a student-doctor. Also included, are high definition video monitors to view anatomic motions and manipulation demonstrations. The instructional teaching station has both fixed and portable high definition cameras allowing optimal viewing of techniques with quality recordings for future review.
Patient Centered Medicine (PCM) Lab
A second location to enhance your osteopathic skills, is our Patient Centered Medicine (PCM) Lab. In this location, you will meet weekly to learn and practice clinical skills that will help diagnose patients with a variety of issues, as well as assist with preparation for the Boards. In PCM lab, you will be assigned to a group each academic semester. Liberty osteopathic medical students are expected to become comfortable in their ability to inspect, auscultate, percuss, and palpate a variety of body regions.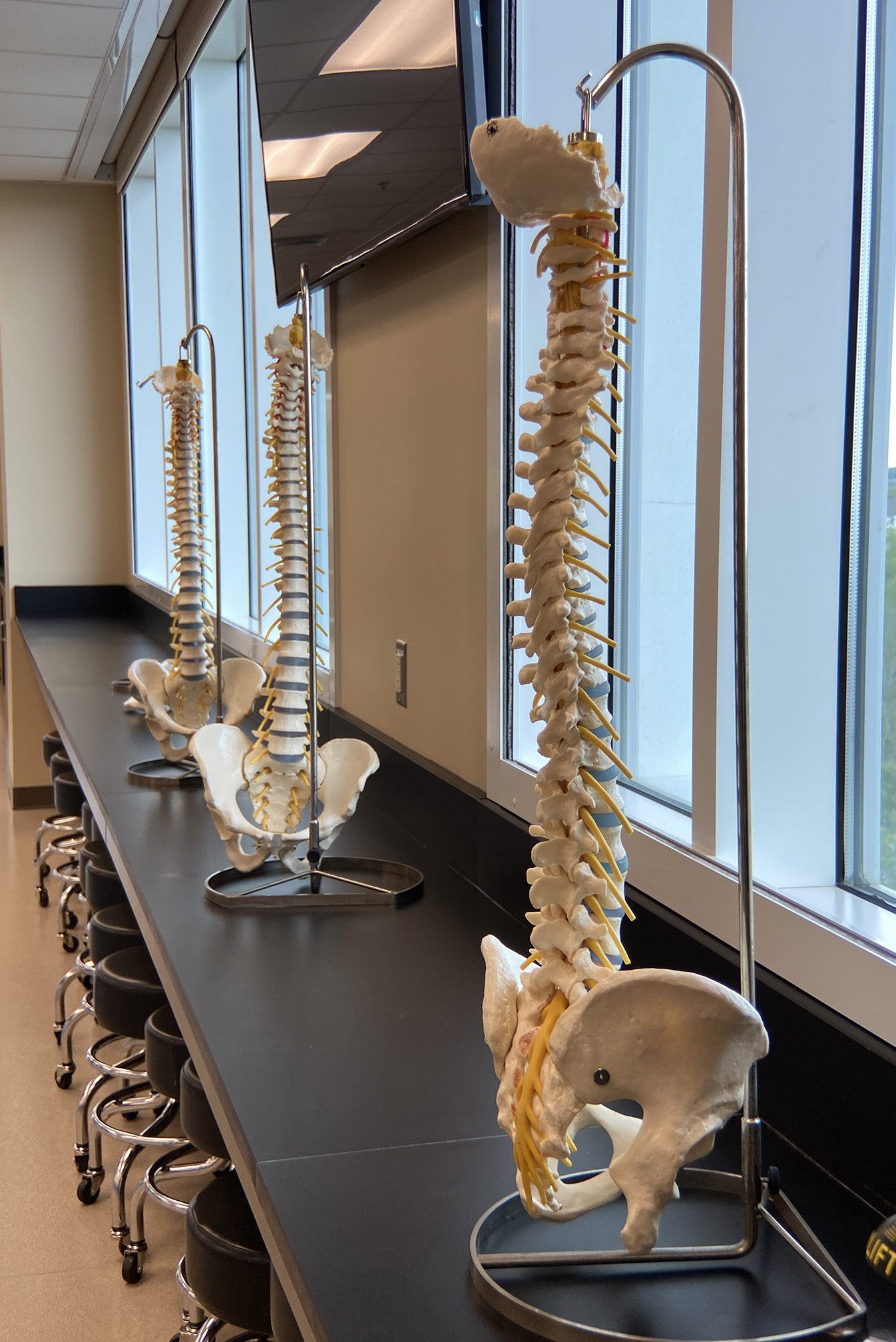 In order to become proficient in physical examination and osteopathic neuromuscular diagnosis and treatment, it is important that you develop skills on a wide variety of body types, genders, age groups, and levels of health and/or disease.
This will help you to develop the appreciation of subtle variations in muscle tone, joint movement, tissue textures, and tissue types that the physician will need to successfully treat.
In the OMM lab, students are randomly assigned to partners and/or groups to allow the greatest depth of experience, in order to meet the standards of quality osteopathic care. Both the OMM and PCM Labs are able to broadcast live feeds to other educational spaces within the Center for Medical and Health Sciences (CMHS).