Join LUCOM in Graduate Medical Education
Nestled in the beautiful Blue Ridge Mountains of Central Virginia, the Liberty University College of Osteopathic Medicine (LUCOM) Osteopathic Neuromusculoskeletal Medicine (ONMM) Residency Program strives to provide excellence in education and patient care, as well as develop leaders in the ONMM specialty, research, and academia. We are delighted that you have come to learn more about the three-year residency program and hope you will be interested in joining us.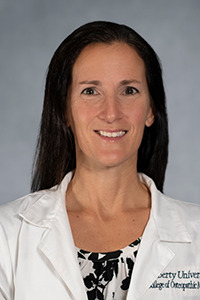 Within the ONMM program, residents can expect an individualized experience tailored to their specific interests and progression of skills. Several elective rotation blocks and graduated autonomy in patient care prepare our residents to confidently build their careers in whatever setting they choose. In alignment with the principle of body-mind-spirit, the program emphasizes work-life balance by encouraging a healthy lifestyle. The varied opportunities available in Lynchburg, Va., from outdoor activities to performing arts venues, and a work schedule that does not require nights or weekends on most rotations, allow for harmony between your training responsibilities and life outside medicine.
As a young program, our residents play a large part in shaping the program, actively participating on committees alongside program faculty and Graduate Medical Education (GME) leadership. Residents are considered an integral and equal part of the healthcare team in our multi-specialty clinic. We value their contributions to the clinical learning environment and continuously seek their opinions and ideas to improve our goals and systems.
The program also benefits from strong institutional support through Liberty University's College of Osteopathic Medicine. As the first established residency program through LUCOM Graduate Medical Education Services (GMES), residents participate in an unopposed educational experience and have access to extensive resources already established by the medical college.
Rich in a culture of inter-professional collaboration, the ONMM program welcomes and encourages applicants eager to engage in patient care, a robust didactic curriculum, and synergistic scholarly activities. You are encouraged to explore our website for additional information. Should you have any questions, please email me directly.
Joy Palmer, DO
Program Director
jpalmer@collaborativehp.com
LUCOM Graduate Medical Education
LUCOM Graduate Medical Education Services (LUCOM GMES), and its residency and fellowship programming, equips physicians to become leaders in their specialties in clinical practice, medical education, and scholarship. The Sponsoring Institution of LUCOM GMES continues to actively promote the continued development of the ecosystem of medical education in Central Virginia. This has been organized to include staff, students, residents, and faculty to further develop the pipeline from the pre-medicine years of undergraduate education through medical school, continuing into graduate medical education and beyond.
LUCOM
Liberty University College of Osteopathic Medicine (LUCOM) is a faith-based institution with student-doctors guided by the principles of the Christian worldview to become knowledgeable and competent servants for their patients and society. LUCOM's inaugural class graduated in 2018, and LUCOM continues to place graduates in competitive residency programs across the United States. LUCOM's Match Rate for the Class of 2022 was 100%.
Liberty University
Liberty University, founded in 1971, is an accredited evangelical liberal arts institution with 17 colleges and schools, including a law school, a medical college, and a school of divinity. With more than 700 programs of study from the certificate to the doctoral level, Liberty equips students through both classroom theory and practical experience, effectively preparing them to enter a competitive job market.
Liberty is located in the City of Lynchburg in Central Virginia, surrounded by the Blue Ridge Mountains. The campus is over 7,000 acres and sponsors numerous cultural and athletic events, theatrical plays, and more.
City of Lynchburg
The Lynchburg community has a revitalized, historic downtown district with art galleries, restaurants, and plentiful outdoor recreation. Its 1806 Old City Cemetery has an arboretum with antique roses. The nearby Legacy Museum explores African-American history. By the James River, Amazement Square is an interactive children's museum with a climbing tower. The Federal-style home Point of Honor features period furnishings. Southwest is Poplar Forest, Thomas Jefferson's neoclassical retreat.
Learn More About Lynchburg