Standardized Patient and Simulation (SIM) Lab
The Standardized Patient and Simulation (SIM) Lab, located on the second floor of the Center for Medical and Health Sciences, is highlighted by twelve thousand square-feet of modern and state-of-the-art technology. The lab provides hands-on, active student learning and professional development opportunities through encounters with both live standardized patients and high fidelity simulators.
LUCOM's SIM Lab is accredited in teaching and education by the Society for Simulation in Healthcare. The Society for Simulation in Healthcare is a non-profit membership society committed to furthering and supporting the science of healthcare simulation.
For any questions or more information about using the Simulation Lab email lucomspp@liberty.edu.

The SIM Lab includes:
Six high fidelity simulation rooms simulating Operating Rooms (OR), Emergency Rooms (ER), and Intensive Care Unit (ICU), and Birthing Suites
Clinical exam and patient rooms staging safe and realistic settings
The SIM Lab's sixteen standardized patient encounter rooms provide interaction with trained community members simulating common and complex medical conditions. These interactions are designed to advance your interpretation, application, and utilization of knowledge that leads to the proper assessment, diagnosis, and treatment of patients in a clinical setting.
The facility provides recording technology for visual and audio interactions between you and the standardized patients. These facilitate CCTV broadcasts as well as faculty, staff, and self-evaluation for both substantive evaluation and formative feedback.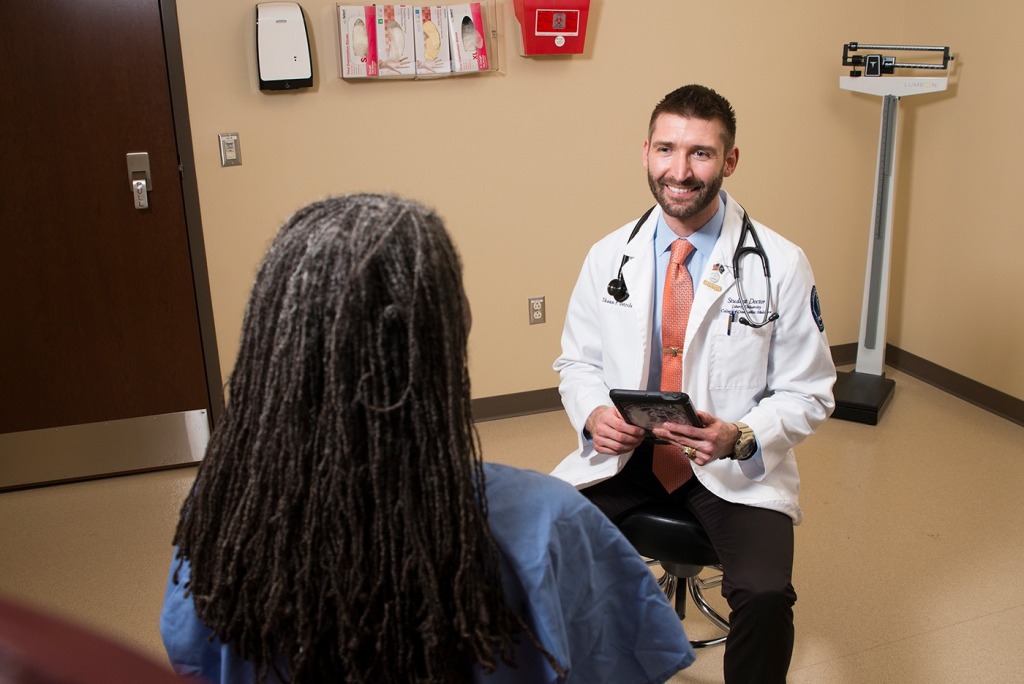 As a Liberty osteopathic medical student, you'll get to interact with nursing, public health, athletic trainers, emergency medical technicians and other health care providers in the evaluation and care of simulated patients. Through this facility, you will be provided the interprofessional education and interaction required of today's physician.
The exam rooms help you develop the skills required for: conducting patient interviews, gathering information through history and physical examination, evaluating and interpreting information to diagnose and design treatment plans, learning to use electronic medical records and documentation systems, as well as training advanced procedural skills such as birthing, surgical procedures and endoscopy.