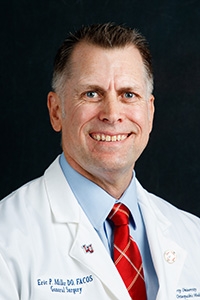 Chair and Assistant Professor of Surgery, Clerkship Director
Education
DO, A.T. Still University, Kirksville College of Osteopathic Medicine, 1999
Osteopathic Rotating Internship – St. John Detroit Riverview Hospital, 2000
General Surgery Residency – Oklahoma State University, Tulsa, 2004
Board Certification, American Osteopathic Board of Surgery (AOBS)
BA, California State Polytechnic University, Pomona
Courses Taught
Gastroenterology – GI
Geriatrics & End of Life – GERI
Nephrology/Urology – NephUro
Women's Health – WH
Professional Memberships
Fellow, American College of Surgeons (ACS)
Fellow, American College of Osteopathic Surgeons (ACOS)
American Osteopathic Association (AOA)
Association for Surgical Education (ASE)
Christian Medical and Dental Association (CMDA)
Lynchburg Academy of Medicine (LAM)
Medical Society of Virginia (MSV)
Society of American Gastrointestinal and Endoscopic Surgeons (SAGES)
Virginia Osteopathic Medical Association (VOMA)
Biography
Serving as Assistant Professor of Surgery at LUCOM, Dr. Miller is the General Surgery Clerkship and Course Director for third-year osteopathic medical students. In the clinical setting, he practices with CMG Bedford General Surgery. He is an active member of the medical staff of the Bedford Memorial Hospital and Lynchburg General Hospital. He also holds active staff privileges at Virginia Baptist Hospital and Centra Specialty Hospital. He is a general surgery Preceptor, providing supervision and mentorship in clinical general surgery as well as global medicine and surgery. He serves as faculty advisor for the Student Osteopathic Surgical Association, and as co-facilitator for a "Compass" student mentoring group. He sits on various committees of the College of Osteopathic Medicine, including Executive Curriculum, Medical Outreach/Community Involvement, and Student Progress Committees.
Having spent several years in both France and Togo, West Africa, as a missionary surgeon, Dr. Miller had the pleasure of helping educate and train Togolese operating room technicians, floor nurses, Congolese doctors, traveling American medical students and general surgery residents during his time as Director of the Department of Surgery of the Hospital Baptiste Biblique. Dr. Miller returns to Africa intermittently as a surgical Preceptor to Fourth-year LUCOM students on their international elective rotations.
He currently serves on the Board of Directors of MedSend, a Christian nonprofit organization committed to assisting healthcare providers with their medical education debt during their service in medical mission work. He was also recently appointed stateside Surgeon Champion for the department of General Surgery at Tenwek Hospital, where there is vibrant general and endoscopic PAACS surgical training for African Christian physicians who plan to practice and provide excellent surgical leadership in hospitals in mostly underserved regions of Africa.
Research Interests
Acute Care Surgery
Hernia and abdominal wall surgery
Upper and lower endoscopy
Surgical and endoscopic simulation