Anatomical Dissection Lab
First- and second-year Liberty osteopathic medical students will spend a significant amount of time inside LUCOM's Anatomical Dissection Lab as part of their osteopathic medical curriculum. Throughout LUCOM system courses, you will study human gross anatomy by initially dissecting a human donor in assigned groups of four. You will also study prosected human cadavers, plastinated human specimens, models, cross-sections, and ultrasound, MRI, and CT imaging.
The 5300-square-foot anatomy lab on the fourth floor includes large windows that showcase the beautiful Blue Ridge Mountains and provide natural light and maximum air circulation. Incorporated into the lab is a state-of-the-art HVAC system providing air exchanges at a rate of approximately 17 times per hour.
In conjunction with downdraft dissection tables, vented at 600 CFM per table, the lab is an odor and chemical-free environment for students and faculty. The lab includes 28 dissection tables/stations, each capable of including a computer monitor for prosection assistance. The instructional space has up-to-date technology that provides CCTV broadcasts, live presentations, procedural recordings, prosections, and pathology displayed on HD LCD panels near each station, with the additional capability of digital storage for future educational purposes. The anatomy program also has an Anatomage Table that students can access at any time for virtual study or review of gross, histological, and pathological anatomy. The Table also has various imaging, like CAT, MRI, x-ray, and cross sections.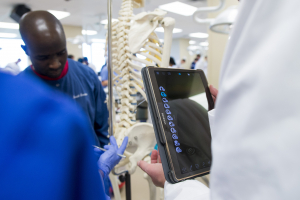 Wireless internet allows access to educational resources of the COM and promotes the integration of anatomical science with clinical science. Resources include electronic dissection programs, cross-sectional anatomy diagnostic imaging, and 3-D video content. An extensive anatomical model room, nestled within the Medical Library, is available for student study and check out. An additional feature is the Anatomical Resource room with a cold storage unit and a large mortuary/preparatory area providing long-term cadaver storage, prosection preparation, research and educational resources, and embalming capabilities.