Turn Your Tassel in Person
Join Us for LUOA's 2024 Commencement Weekend!
Make unforgettable memories with your family while celebrating your student's accomplishments!
Each year, Liberty University and Liberty University Online Academy host several events to celebrate all of our graduates. High school seniors are also honored in a special degree presentation ceremony.
When?
May 9-11, 2024*
*Future dates are subject to change
Where?
Liberty University's Main Campus
1971 University Blvd.
Lynchburg, Va. 24515
All Commencement activities will take place on the main campus at various locations.
See the map section below for more details, including directions.
We will have dedicated staff on campus all weekend to help you get to where you need to go!
Who?
High school seniors who meet all of the eligibility requirements
All eligible LUOA seniors will receive an invitation in February of the current graduation year.
For more information about eligibility and the Degree Completion Application process, please see our main Graduation page.
Any questions regarding eligibility can be directed to OnlineAcademyEvents@liberty.edu.
Don't Forget to RSVP for Commencement!
All students who are considered full-time seniors by February 1 of the current year will be eligible to participate in graduation. For example, all students considered full-time seniors by February 1, 2024, and who meet all other requirements are eligible to participate in the May 2024 graduation ceremony.
An email with the link to RSVP and all details will be sent to all eligible students.
Order Regalia and More and Visit the New LUOA Store!
Class Rings & Announcements
---
Graduation FAQs
Do students advancing from one grade to the next within LUOA participate in a graduation ceremony?
Is there a Degree Completion Application Fee?
Do students receive their diploma at graduation?
Is there a limit on how many people can attend graduation?
How can my student connect with other LUOA seniors?
Where should we stay if we are planning to attend?
Where can I find updated information on LUOA's graduation?
What if I have more questions about LUOA's graduation?
Will students in a certificate or associate degree track graduate with that specific school at Liberty University?
Want to See What Happened at 2023's Commencement?
Watch the full ceremony here!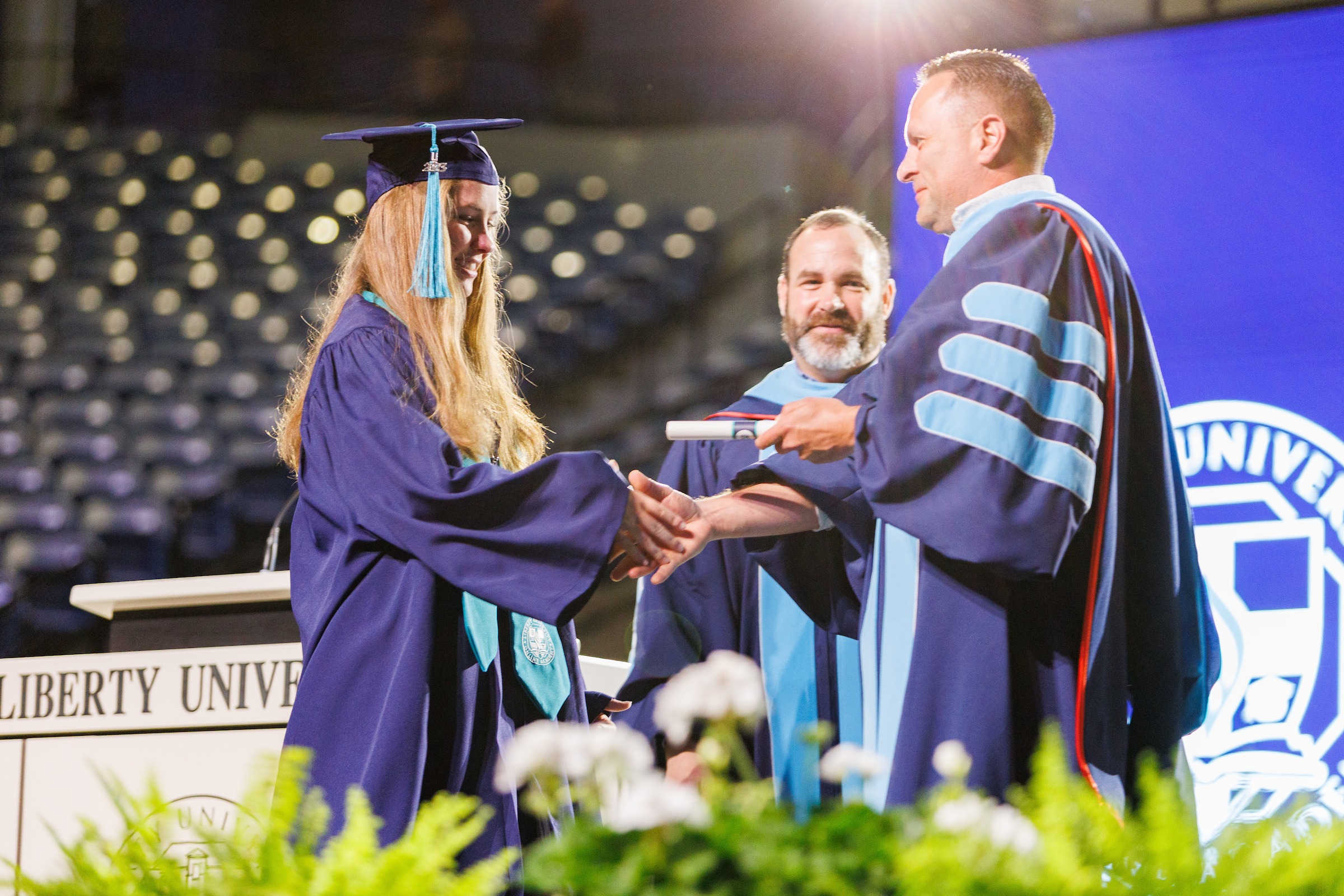 #https://www.youtube.com/watch?v=jqtxTYYYL8U