Dual Enrollment
Aviation Program
Flexible Classes

9 Available Courses

Up to 28 College Credits
Jump to section:
Overview
Earn Aviation College Credit and Flight Hours During High School
In partnership with Liberty University, LUOA offers 11th- and 12th-graders the chance to take aviation courses that count for both high school and college credit. Most of these classes are online while the flight courses give students the opportunity to complete in-person flight hours at one of our Flight Training Affiliates (FTAs).
Students can earn up to 28 college credits through our aviation courses – and those credits will count toward the "Customize Your Path" option for LUOA, which allows students to mix and match up to 36 credits of Dual Enrollment courses. So if a student earns all 28 possible aviation credits, they can still take up to 8 more credits in other areas of study and diversify their skill set!
Learn more about our aviation courses below!
Benefits
Find Out Why It Pays to Study Aviation at LUOA
Save approximately 53% in tuition compared to Liberty University Online by paying high school tuition rates for 3-credit, college-level courses!
Earn Valuable Credentials
Students can meet eligibility requirements to earn their Private Pilot License and Instrument Rating as well as begin working toward earning their Restricted Airline Transport Pilot (R-ATP) license.
Students will have 24/7 access to their online curriculum. Additionally, students who are enrolled in flight courses can complete their flight hours at a Flight Training Affiliate (FTA) near them.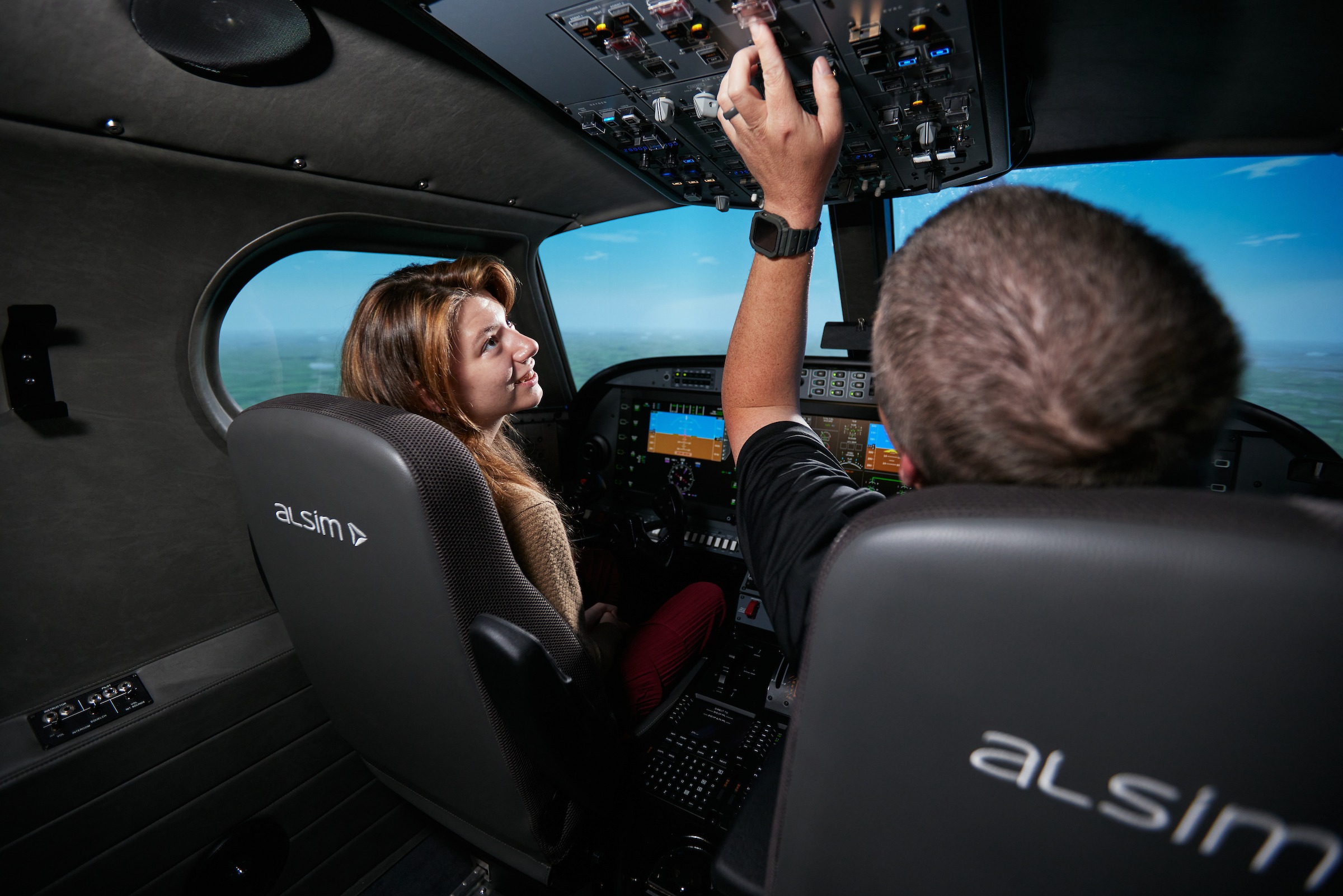 Available Courses
See What Aviation Courses Our Students Can Take While Still in High School
We offer 9 different aviation courses, with each course focusing on a particular aspect of the aeronautics industry. These courses fall into 4 general categories as outlined below.
To view more in-depth descriptions of these courses, visit our Course Finder page. For information about course fees, visit the Liberty University School of Aeronautics website.
For students who are looking to gain a foundational understanding of the aviation field, we offer AVIA 105 – Aviation Survey.
Private Pilot License (PPL)
The following courses can help students meet eligibility requirements to earn their Private Pilot License (PPL) through the Federal Aviation Administration (FAA):
AVIA 216 – Private Ground
AVIA 220 – Private Flight I
AVIA 225 – Private Flight II
Instrument Rating (Post-PPL)
Students who have earned their Private Pilot License may enroll in the following courses, which can help them meet the eligibility requirements to earn their Instrument Rating through the Federal Aviation Administration (FAA):
AVIA 310 – Instrument Ground
AVIA 320 – Instrument Flight
We also offer various other aviation courses that can help further your student's understanding of this field:
AVIA 227 – Introduction to Risk Management
AVIA 230 – Unmanned Aerial Systems*
AVIA 245 – Aviation Leadership
*This course is not R-ATP approved.
Registration Recommendations
Here Are Our Recommendations for Our Students' Success
While 8-week courses are available to Dual Enrollment students, we strongly recommend that our students register for flight courses that last a full semester (also known as "A-term courses") for the following reasons:
Full-semester classes give students more time to complete their coursework so that they are not overloaded with too much in a short amount of time.
Students will complete their flight hours at a Flight Training Affiliate (FTA) near them – and oftentimes, FTAs may not have enough flight instructors available to accommodate an 8-week course schedule.
Weather can sometimes affect flight schedules. With full-semester courses, students have extra time to complete their flight hours in the event that weather or other factors cause delays.