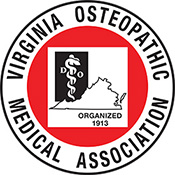 Liberty University College of Osteopathic Medicine (LUCOM) is proud to partner with the Virginia Osteopathic Medical Association (VOMA) on a continual basis. It is through their support that LUCOM faculty, as well as student-doctors, are able to connect throughout the state and enhance not only osteopathic education but the profession, as well. Every year, VOMA hosts a fall and spring conference, for practicing osteopathic physicians to earn CME, learn of new updates within the organization and the profession, observe new and updated manipulation techniques through demonstrations and presentations, and network with Virginia's only existing osteopathic colleges (LUCOM and the Edward Via College of Osteopathic Medicine [VCOM]). COM representatives are also able to attend and recruit for new preceptors.
Much like the mission of LUCOM, VOMA exists to represent the osteopathic profession, provide osteopathic medical education opportunities, assist in osteopathic medical student growth, and promote scientific research to develop and improve excellent patient care.
Every summer, LUCOM executive leadership travels alongside VOMA officers to attend the American Osteopathic Association (AOA) – Annual Business Meeting. This weeklong event joins delegates from all over the country representing the osteopathic profession of their respected state to consider proposed resolutions and enact new AOA-policies.