Wednesday, September 18, 2019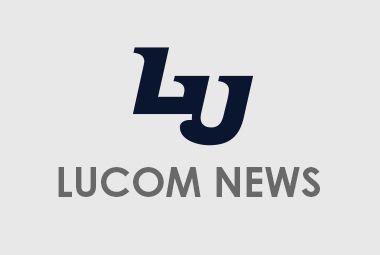 Chris Breedlove and Asa Keimig | LUCOM Marketing | Sep 18, 2019
Liberty University College of Osteopathic Medicine (LUCOM) welcomed back Lance Plyler, MD, director of World Medical Mission (WMM), a department in the medical sector at Samaritan's Purse, on Tuesday, Sept. 17. He talked about his work with Samaritan's Purse and post-residency opportunities for Liberty osteopathic medical students.
"Liberty University and Samaritan's Purse are incredibly like-minded, and medicine is an incredible tool for the sake of the Gospel," said Dr. Plyler. "There's strength in numbers and it's awesome to work with you all."
Dr. Plyler spoke on the post-residency program available with WMM. "Think of it like a two-year fellowship," he said. "It is designed to help and prepare physicians that are prayerfully considering a career in medical missions through first-hand experiences."
"Our goal with the WMM post-residency program is to foster the growth of a new generation of career medical missionaries who aim to bring both physical and spiritual healing to a hurting world," added Dr. Plyler.
The WMM post-residency program  began in 2004 with only one physician. As of 2019, there are 168 accepted in the program, with 28 post-residency physicians actively training in the field today.
World Medical Mission (WMM) was founded in 1977 with the intent of assisting surgeons who had a desire to volunteer on short-term medical trips. The mission remains to provide medical care to the underserved around the world and to share the gospel of Jesus Christ. There are four divisions within WMM: Short-Term Medical Missions, Biomedical and Warehouse Teams, Surgical Subspecialty Teams, and a Post-Residency Program. WMM hospitals are positioned all over the world, currently in 52 locations.
Dr. Plyler's visit coincided with Liberty's Global Focus Week, a semi-annual event aimed at raising global awareness among Liberty University students, faculty, and staff. Throughout the week, residential students are able to hear from globally influential Convocation guests, connect with global workers, experience a variety of cultures, and participate in interactive events.
According to David F. Klink, DO, who is developing a Global Medicine Concentration at LUCOM, his office reached out to Dr. Plyler inviting him back to LUCOM to talk about current LUCOM collaborations. "Our current connection with Samaritan's Purse is to send OMS-IV students on elective clinical rotations to one of their partner hospitals across the world. Currently, World Medical Mission funds 12 positions each year, and for LUCOM, the partnership began with our inaugural LUCOM graduates, Alex and Shannon Hamilton, DO."
"Most osteopathic medical schools value service to the underserved and work to promote that to their students," said Dr. Klink. "At a Christian school like Liberty, that becomes much more than a social good or a preference. It is nothing less than obedience to the command of Jesus Christ to become servants to those without."
In 2018 alone, over 700 medical volunteers with WMM traveled to 40 different countries and were placed in 52 different hospitals and clinics. Dr. Plyler has been serving extensively with Samaritan's Purse since 1997.
Dr. Plyler's first visit to LUCOM was in 2017 during the annual Helping Hands Medical Outreach Gala sponsored by the Office of Clinical Collaboration and Education.