Thursday, May 18, 2017
LUCOM hosts second Helping Hands Black Tie Gala, proceeds support medical outreach
Thu, 18 May 2017Christopher Breedlove and Asa Keimig | LUCOM Marketing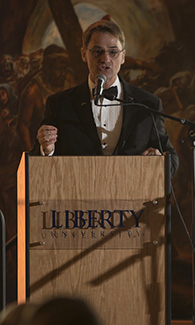 Liberty University College of Osteopathic Medicine (LUCOM) – Office of Medical Outreach and International Medicine hosted their second Helping Hands Black Tie Gala on Friday, April 28. The gala was in support of domestic and international medical outreach at LUCOM and was held inside the Montview Student Union, Alumni Ballroom, on the campus of Liberty University. The event was highlighted by presentations from keynote speakers Lance Plyler, MD, internal medicine specialist and medical director of Disaster Response at Samaritan's Purse, and Phiona Mutesi, international speaker and chess champion from Uganda.
"Our primary goal is to build awareness, support in prayer and finances, and develop a network of professionals and friends who want to pray and encourage LUCOM student-doctors to follow God's direction," said James Cook, director of Medical Outreach and International Medicine. "We had a room full of friends, family, and professionals who have a passion to serve and want to truly make a difference in the world serving God. They are part of a growing team of like-minded individuals who act justly, love mercy, and walk humbly with God while serving their fellow man."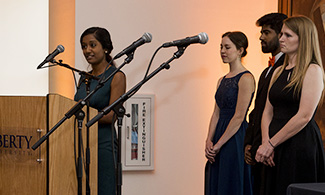 The gala began with student-doctors Shawn Cherian, Sherin Cherian, Renee Frantz, and Elizabeth Johnsen (Class of 2019) who gave a brief PowerPoint presentation on a poster that showcased the model of building international sustainability through Medical Outreach. "We have worked extremely close with the Office of Medical Outreach to help build our presentation [poster]. LUCOM's work overseas is not meant to be a one-stop shop of healthcare and then leave. We are building relationships. We are gaining experience. We are advancing Biblical and osteopathic principles. We are mentoring the health care community so that there is sustainability," said Sherin.
"Our goal for the gala was two-fold: highlight LUCOM's top quality efforts in both national and international outreach efforts, primarily Guatemala, and how we need partnerships to continue the work," Sherin added. "Partnerships are more than just networking and relations. They're prayer support. They're financial support. At LUCOM, Medical Outreach is a foundational component. Partnerships only help further our mission and passion."
The full poster will be displayed next year during the national American College of Osteopathic Family Physicians (ACOFP) conference in Austin, TX.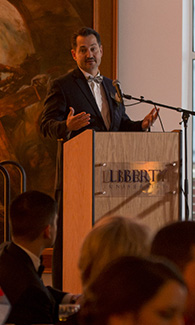 Following the students, Dr. Plyler delivered a presentation on his experiences serving with the Samaritan's Purse on medical mission trips. His story made headlines when his colleague and friend, Kent Brantly, MD, contracted the Ebola virus while serving in Liberia. Dr. Plyler was rushed to his aid only to find another American, Nancy Writebol, had also fallen victim to the virus. Trained in palliative care for dying patients, Dr. Plyler acquired the serum, ZMapp, a combination of Ebola-fighting antibodies that yielded positive results in 18 experimentally infected macaque monkeys. Both Dr. Brantly and Writebol's condition improved after taking ZMapp and continued their recovery at Emory Hospital in Atlanta, Ga. On March 30, Samaritan's Purse released the film Facing Darkness, retelling the incredible true story of how the ministry moved mountains and God performed a miracle.
"Dr. Plyler was an incredible encouragement to the students pursuing medical missions, as they prepare for the role of a compassionate caregiver in areas with significantly reduced resources," Cook said.
The second keynote address, designed as an informal Q&A session and moderated by Cook, highlighted Phiona Mutesi, most commonly known for the recent Disney film about her life, Queen of Katwe. Joining her was Robert Katende, the man responsible for teaching Mutesi the game of chess. He spoke on the knowledge and skills that are used to mentor youth and build character through the game of chess and how God continues to transform lives in Uganda.
"In our daily decisions, in our academics, we need focus, we need determination. We need to work harder. We need to make right decisions. When you get to the game [chess], you get to know how the pieces move. All I try to do is help convey how the pieces, the game, relays to life and personal values," said Katende. "The board is the platform and the pieces have limits. We have limits and our moves [actions] should always be considered. It is decision-making. It is developing life skills."
Katende demonstrated how he uses the game of chess to connect to life in four parts. "Experience, which is the game itself. Reflection, where we discuss the game and the moves that took place. Then part three, theory. This is the vehicle for applying Biblical scriptures. Finally, application; in life, how we can move forward." Quickly commenting afterwards, Cook echoed Katende's remarks, "I think we need to learn Scripture exactly in that method of teaching."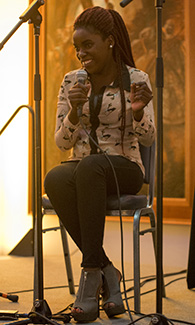 With Mutesi's accomplishments throughout international chess tournaments, she gave praise to her coach and how chess has motivated her to pursue a degree in Sociology. "My personal story has inspired people and their stories have allowed me to better connect with them. I love people. I want to continue teaching kids, especially young women. Life can be so hard, especially for women in Uganda."
Encouraging those in attendance, Mutesi added, "We need to be strong…be hard-working. Always have hope. Dream big. Everyone is called and we don't always listen. It is up to us to respond and make our lives better."
Concluding the event was a brief recognition of individuals and organizations who have partnered and supported Medical Outreach tremendously. Richard Lane, MD, along with John and Annyce Maddox, and organizations Blessings International and Centra Health Systems, were recognized with the Ecclesiastes Award. Inspired by Ecclesiastes 4:12, the award is given to an organization or person that has helped advance the mission of LUCOM and shown dedication to excellence in the practice of service toward their fellow man, lifelong learning and the advancement of medical knowledge.
Liberty University School of Nursing was recognized with the Onesiphorus Award inspired by 2 Timothy 1:16. Onesiphorus, the Greek word for 'refreshed' is used as an example of when a mother cools her baby with a fever by blowing on his/her forehead. This award is given to only one recipient per year who made a tremendous impact in serving others in the spirit of fellowship and kindness; their actions refresh and revive. It is the highest award from the Office of Medical Outreach.
The second Helping Hands Black Tie Gala brought in 170 guests and raised over $16,000 for Medical Outreach efforts. Donations received at the Gala will help provide medicine, supplies, and support for both domestic and international events. In addition, the Office of Medical Outreach and International Medicine started another category for giving where donors can contribute to a scholarship fund for students wanting to serve in an international elective during fourth year rotations.
"The name of our gala, Helping Hands, is significant because as osteopathic physicians and students, they use their hands to diagnose, treat, and show care," said Cook. "They are the hands of Christ and are giving their fellow man a healing hand up out of poverty."
"It is always amazing and fulfilling to see people from different places, come together for the benefit of our student-doctors, but most importantly, God's work around the world. The night of the gala I was surrounded by those people, who have big hearts and great stories," said Laura Santiago-Slagle, International Medicine Coordinator. "My heart was overflowing with joy and peace with the reassurance that there are people out there who answer the call for help. It was an evening I will never forget."
---
See images from the event at Facebook.com/LibertyMedicine