Wednesday, May 1, 2019
Wed, 01 May 2019 | Sophia Hafner | Liberty University News Service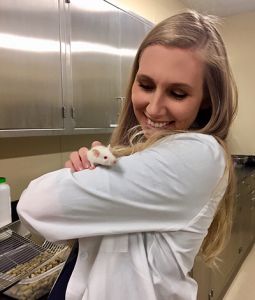 Psychoneuroendocrinology and Neuropsychopharmacology aren't everyday terms to most people. But for Liberty University alumna Brittney Browning ('18), they are a part of her daily vocabulary.
Browning graduated with her Bachelor of Science in Psychology from Liberty and now works as a post-baccalaureate fellow at the National Institutes of Health (NIH) in Bethesda, Md. Currently, Browning's team is seeking to identify new addiction treatments using various hormonal pathways. She said she felt well prepared for her position at the NIH after gaining extensive research experience as a Liberty undergraduate student.
Browning spent the summer before her senior year interning at a cognitive neuroscience summer program in Amsterdam. When she returned to Liberty, she received a position as an undergraduate research assistant at Liberty University College of Osteopathic Medicine (LUCOM), where she participated in a number of research projects on nutrition, food science, and the influence of diet on health in mice.
At LUCOM, she received support from Joseph C. Gigliotti, PhD, assistant professor of physiology. "His support and direction played a huge role in my undergraduate experience," Browning said. "In addition to teaching me key research skills, he went above and beyond to help me in any way that he could. Professors like Dr. Gigliotti are what set Liberty apart. Because of Liberty, I now have lifelong friends and mentors."
Dr. Gigliotti's laboratory has focused on understanding kidney disease and how diet influences kidney and cardiovascular health. He is also involved in collaborative projects studying kidney health and disease with the University of Rochester Medical Center and the University of Virginia School of Medicine.
"Browning had a wonderful way of combining competence with grace and humility," Gigliotti said. "She is very intelligent, motivated, and hardworking — characteristics that have served her well thus far and will continue to do so as she progresses through her career."