Monday, July 31, 2017
LUCOM welcomes fourth class of student-doctors
Mon, 31 Jul 2017Asa Keimig | LUCOM-Marketing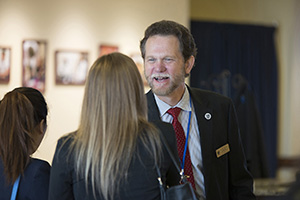 Liberty University College of Osteopathic Medicine (LUCOM) welcomed 153 new students this past week, as part of the Class of 2021, all with their sights set on becoming osteopathic physicians.
"In Osteopathic Medicine, we talk about family all the time and for the next four years we're going to be your family and we're going to support you in all that you do, because we want nothing but the best for each of you," said Peter A. Bell, DO, dean of LUCOM, during his welcome address to the new class on Tuesday, July 25. Dr. Bell was joined by special guests, Ronald E. Hawkins, D.Min., Ed.D., Provost and Chief Academic Officer for Liberty University; Gabe Etzel M.Div., D.Min, Vice Provost for Undergraduate Education for Liberty University; and Delegate Scott Garrett, MD, during the opening session.
Leading the first session, Dr. Bell reflected on the mission of the college to educate and produce excellent osteopathic physicians. "LUCOM is a Christian school. Our mission drives everything we do. This is our heartbeat – to train you and instill upon you the Christian values of serving your fellow man. For us, that is done through integrity, professionalism, and patient-centered osteopathic medical care."
"We are praying for you, envisioning your success and cheering your accomplishments, each and every step, along the way," added Dr. Bell.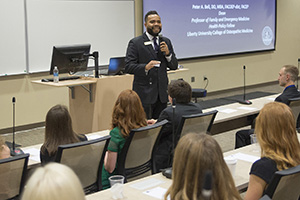 For the Class of 2021, orientation week was filled with academic and recreational activities, designed to provide a small, yet significant glimpse of what the journey known as medical school looks like. On the academic side, they were introduced to the facilities and the services available to them, as well as introduced to the expectations required of them as student-doctors. "My hope for orientation is to exhibit to our incoming students the LUCOM environment, make students aware of policies and procedures, inform students of their resources in LUCOM and on main campus, display the importance of service, and create a family atmosphere," said Troy Burnett, associate director of Student Services. "My hope for the Class of 2021 is that they get acclimated quickly to the environment and the demand of the material that they are learning. Meanwhile, I pray that their support system that consists of their family and friends will encourage them through medical school."
Outside of the academic setting, new students enjoyed a student-led class social, spent time with loved ones at LUCOM's annual family picnic, participated in a scavenger hunt, and spent time serving during LUCOM's annual Service Day with the local community youth.
LUCOM's Class of 2021 has a large amount of diversity with students from 34 different states, including Hawaii, 12 foreign countries, and one student from Canada. "I chose to study osteopathic medicine because it is founded upon patient-centered care," said Reid Mitchell. "I believe it will allow me to meet the patients where they are in their life and allow me to serve them to a greater degree."
Mitchell also gave credit to the faculty who made him feel right at home. "They made me feel that my future aspirations in medicine could be a reality if I put forth the effort."
Orientation Week concluded with LUCOM's annual White Coat Ceremony, where the Class of 2021 were symbolically coated by LUCOM faculty to transition their status from students to student-doctors. The White Coat Ceremony featured keynote speaker Geraldine N. Urse, DO, MEd, CRN, FACOFP, who has served nearly 25 years in Family Medicine and is board-certified by the American Osteopathic Association and the American Board of Osteopathic Family Physicians in Family Medicine.
The Class of 2021 was the culmination of a collaborative five-year effort on behalf of the Office of Admissions to recruit four classes academically prepared, service-focused individuals that best embody the spirit of Liberty University. "We pray that these young people will not lose themselves in the process of learning how to be doctors," said Barry Ousley, assistant director of Admissions. "We pray that the very characteristics that drew them to us and to the field of medicine will not be smothered by the study of medicine itself and that they will not only do their best as students but that they also take care of their physical, emotional, and spiritual well-being while earning their degrees."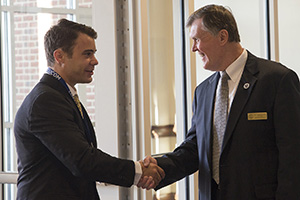 Every year the LUCOM Admissions team searches for and interviews candidates that they believe will further the osteopathic profession, the mission of the college, and the mission of Liberty University. Their goal is to recruit students who will grow and learn, not only as future doctors, but as individuals. "LUCOM is very unique compared to other medical schools. Our culture is one of love and nourishment, which is also a reflection of Liberty. From visiting other schools and interviewing student applicants, our environment is very rare and inviting," said Gary L. Patton, PhD, assistant dean of Admissions and Student Services.
Highlighting the admissions experience and reflecting on her interview day, new student Whitney Briggs mentioned that LUCOM was the environment she was looking for. "Coming from a military background, finding an institution that was rooted in similar values of integrity, service and excellence was paramount for me. As a future military physician with aspirations to work with disabled veterans down the road, the focus on the patient and everything that comes with them (mind, body, and spirit) is a foundation I knew I wanted to have. More importantly, as a Christian, the osteopathic profession aligns well with the values I have rooted in my faith."
The Class of 2021 officially begins their journey of earning a Doctor of Osteopathic Medicine (DO) degree today, July 31.
---
View digital images of the Class of 2021 Orientation week on Facebook. Follow LUCOM on Twitter.