Wednesday, March 11, 2020
Chris Breedlove | LUCOM Marketing
Liberty University College of Osteopathic Medicine (LUCOM) welcomed Nanette Lacuesta, MD, MS, program director of physician diversity initiatives at OhioHealth, on Tuesday, March 10. Her visit was supported by LUCOM's Office of External Affairs and Faculty Development. She spoke directly to the faculty and staff for a mid-morning symposium focused on Everyday Bias for Healthcare Professionals. The content was developed by Quinn Capers, MD, FACC at The Ohio State University College of Medicine.
On the topic of unconscious bias, LUCOM Dean Peter Bell, DO, started the event by saying, "We all have unconscious bias, or put another way, we don't know what we don't know about ourselves. First recognizing that some biases exist in all of us is the first step. The next step is exploring what they might be, and the final step depends on the individual. Do we want to be more Christ-like? If yes, then do any of our unconscious biases hold us back?"
In his introduction of Dr. Lacuesta, Dr. Bell mentioned she is a highly effective speaker. "Dr. Lacuesta has demonstrated a positive change in awareness and behaviors among health care providers in Ohio. Her approach to the subject, and manner of delivery is disarming and collegial. Thank you Dr. Lacuesta. We appreciate you traveling this time of year to help us in our continued efforts of developing a medical school culture that more effectively reaches people with words and deeds."
Dr. Lacuesta began her session listing her six objectives for the symposium. "This morning we're going to describe implicit bias, give an example of how background and upbringing shades our reality, recognize that implicit bias is real and harms everyone, list strategies to mitigate implicit bias, commit to one action you will take to mitigate implicit bias, and identify how microaffirmations and microaggressions effect an inclusive culture."
"What is Unconscious Bias?" she asked. "It is a mental association that is without awareness, intention, and control. These often conflict with conscious attitudes, behaviors, and intentions. The fact is, our reality is shaded by our experiences and backgrounds. Implicit bias is real and harms everyone. Let's do something about it."
During her presentation, Dr. Lacuesta listed the following strategies to reduce/neutralize implicit bias:
Common identity formation; ask interviewee type questions about interests and activities that you might share in common
Perspective taking; take the perspective of a member of the group against which you have the unconscious bias
Consider the opposite; when data seems to point to one conclusion, briefly look for data supporting the opposite conclusion before making a final decision
Counter-stereotypical exemplars; spend time with and/or focus on individuals you admire from groups against which you have a bias, in other words, educate yourself
"I encourage you to learn those strategies; bad news is, we all have bias, but we have the power to change our own thoughts. And if you have influence of others, are responsible for providing content for others to see and how we talk to each other and interact, then you have a position on interpreting that value of inclusion and feeling welcome. You are building into the lives of others," said Dr. Lacuesta.
Dr. Lacuesta also talked about patient interaction specifically meant for many of the LUCOM faculty present at the symposium. "In caring for the whole person, we should recognize that our patients' identity as a diverse person is an important part of their whole identity. Health care disparities are tied to groups that are disadvantaged and are usually also the same groups that are not in the majority. Our role in healthcare, in whatever capacity, uniquely positions us to affect the outcomes of the patients that our students will ultimately come into contact with, and it would benefit us all to be aware of the ways our implicit biases could impact their success and also teach them to identify and mitigate their biases, too."
Linda S. Mintle, PhD, professor and chair of behavioral health, was one of the faculty members in attendance. "Dr. Lacuesta did a fantastic job with a difficult topic. I was impressed by how well she handled the subject matter and connected with the audience. With any professional development, the hope is always personal and professional application. If we are to grow, we need to be aware of how implicit bias affects our personal lives and organizational culture. And as people of faith, we are challenged by the prayer of Christ to be one and live in unity."
Prior to the symposium, the Office of External Affairs and Faculty Development sent instructions to complete an online Implicit Association Test (IAT) that was created via a collaboration between several universities such as Harvard, Virginia, and Washington. The goal of the IAT is to collect data on hidden biases and measure the strength of associations between concepts and evaluations or stereotypes. In one case, The Ohio State University College of Medicine reported their findings significantly improved the diversity of incoming classes after requiring that the members of the admissions committee take the IAT prior to interview season.
"I challenge you to make a pledge with yourself, with your team, that you will take one of the techniques we talked about today and put it into practice. Everyone can be discriminated against but there is a difference between discrimination and a group that is oppressed. It's your impact that is the most important versus your intent. We can be the instigators of changing minds and as a team, we can make a pledge to change," she said.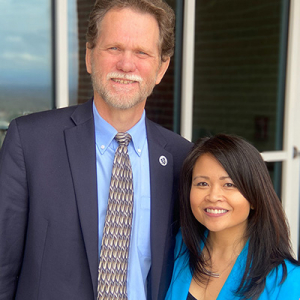 Dr. Lacuesta is OhioHealth's System Program Director for Student Outreach and Physician Diversity Scholars Program Director and Community Assistant Dean for Medical Education at The Ohio State University College of Medicine. She has received numerous awards as well as being named one of Columbus Business First's 40 Under 40 honorees. She directs several curricula as well as activities in resident affairs and professional development. Her medical specialty is Family Medicine.
"There are always risks bringing up sensitive topics in any venue. At LUCOM, we [faculty and staff] have been on a journey together to mature an osteopathic medical college and create a culture that is inviting, diverse, and inclusive. In that culture, our faculty have incorporated a Christian worldview," added Dr. Bell. "It is our intent to pursue the great commission or witness of Christ to the world in our daily words and actions. It is not up to us to get people to believe, but rather to share the good news. Ideally, anyone experiencing LUCOM should walk away with an experience that ultimately benefits them."