Thursday, July 14, 2022
Chris Breedlove, LUCOM Marketing
On Monday, July 11, the Liberty University College of Osteopathic Medicine (LUCOM) Student National Medical Association (SNMA) hosted community youth of the Jubilee Family Development Center in Lynchburg for a day of "doctor" training. Over 20 children attended the event, called Doctor for a Day. The day highlighted CPR training, splinting techniques for sports-related injuries, sterile scrubbing, an interaction with a female high-fidelity simulator experiencing stomach pains, and a brief introduction to osteopathic manipulative treatment and stretching. Each participant received a certificate and a t-shirt for event completion.
Doctor for a Day was coordinated by Liberty University third-year osteopathic medical student Ashlee Evans, Class of 2024.
"Our Doctor for a Day guests seemed excited at first when they walked into the Center for Medical and Health Sciences, and then became surprised with curiosity during their interaction with our female high-fidelity simulator. Many had never seen a human-based robotic mannequin that could mimic human functions and even talk to them. They had so many questions, they engaged with it, checked its breathing and heartrate with stethoscopes — it was a fun experience for them."
The goal of this event was to build upon a pipeline for student-doctors and the local youth to stay connected as a way to encourage career paths in medicine, including nursing.
"LUCOM SNMA continued its partnership with the Jubilee Family Development Center this past year with the annual GIFTmas, and in communication with our team, we thought it would be good to try a different event where the kids would come to us and we can show them a little sneak peek of what we learn as future osteopathic physicians," added Evans. "I am very much thankful for LUCOM leadership and faculty for their incredible help to make our first Doctor for a Day a very big success."
Evans will serve this upcoming academic year as a LUCOM Osteopathic Manipulation Graduate Teaching Fellow and continue her role as the Student National Medical Association Region VI Recording Secretary. She also serves as a member of the Diversity Equity and Inclusion – Student Advisory Committee at LUCOM.
The following LUCOM faculty and staff assisted Doctor for a Day:
James R. Grinols, MD, assistant professor of pediatrics, who led the CPR training
Gregory R. Heller, DO, C-AOBNMM, C-AOBFP, associate professor of OMM, who led the brief introduction to osteopathic manipulative treatment
Raena M. Pettitt, DO, CHSE, associate professor of family medicine, who led the simulation and scrubbing experiences
Sigmund P. Seiler, MD, associate professor of family medicine, who led the splinting and scrubbing experiences
Donald R. Raleigh, EdD, senior associate dean of academic affairs, who welcomed the children and offered remarks on the steps to take for a successful career path
Additional support was provided by Kim Hartless, simulation specialist, and Timothy Hodge, simulation supervisor, in working with the high-fidelity simulator.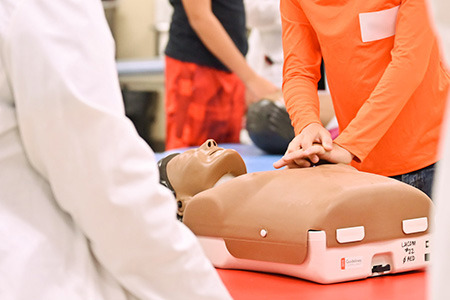 Evans noted the event encouraged the youth to take beginning steps, especially in their middle and high school years, that will place them on a trajectory to become medical professionals one day. "If a child doesn't see themselves in a career path — or interact with someone in that career — their efforts later in life to start said career may not happen, or will be difficult," she said. "Doctor for a Day will hopefully set the stage for them and showcase options to strive toward."
Antonio M. Davis, Sr., program director for the Jubilee Family Development Center, attended the event. "Some of our kids are already thinking about specific career paths — firemen, policemen — and now with this event today, I heard from several of them that they are now thinking about a career in medicine; one specifically mentioned to me that anesthesiology is of interest based on their interaction with LUCOM students today. It was a wonderful event. Year after year, our relationship with LUCOM continues to grow and each student-doctor that interacts with our kids offers encouragement and reflects service toward one another. I look forward to more events with everyone."