Friday, September 2, 2022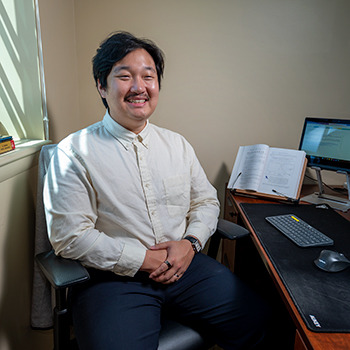 Chris Breedlove, LUCOM Marketing
Liberty University College of Osteopathic Medicine (LUCOM) exists to educate osteopathic physicians in a Christian environment and advance medical knowledge. In fact, an important strategic goal of LUCOM's strategic plan is to establish a reputation among osteopathic schools for excellence in biomedical and clinical research and scholarship. In order to accomplish these tasks, the LUCOM Center for Research allows for student-doctor involvement by way of summer research electives and year-long fellowship opportunities.
For Liberty University osteopathic medical student, Harold Shin, Class of 2025, his research work at LUCOM has validated his decision to become a physician and encouraged him to do more.
"There are many reasons why I wanted to become a research fellow. The first is my personal belief that a good physician is involved in research in some way, shape, or form, in order to be informed and best treat his or her patients with the best of their ability. And second, my wife is a first-year student at LUCOM, and taking a year off to close the gap between me and her was important for us."
Shin's third reason was largely in part to work alongside a new faculty member at LUCOM, Nicholas Rider, DO. "Dr. Rider recently joined LUCOM this past year and brought with him a great opportunity in the field of research. Learning about his research made it very clear that this is what I wanted to do for the next year." Dr. Rider serves at LUCOM as the chair of the Division of Clinical Informatics and as an associate professor of pediatrics.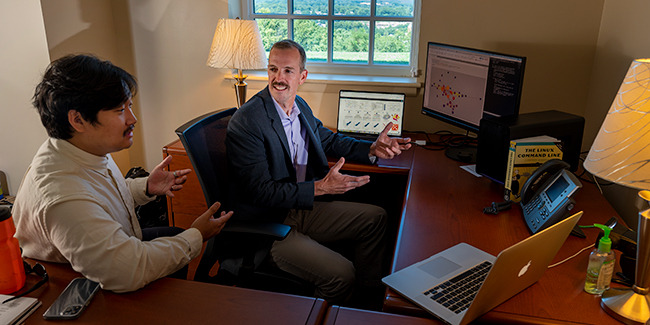 Shin's research fellowship, working in Dr. Rider's lab, is focused on Clinical Informatics and Computational Human Immunology. The work is designed to leverage large healthcare and epidemiologic datasets via data science, artificial intelligence, and machine learning to understand and improve outcomes for patients with immunologic disease, specifically those with primary immunodeficiency (PI). "One of the biggest reasons to joining Dr. Rider specifically was the potential to learn more about the field of clinical informatics and dipping my feet into the world of computer science and coding," said Shin. "It is a rapidly growing field in modern day society and the potential impact with the crossover between medicine and computer science is tremendous. I have not only had the opportunity to work with notable people in the field, but I've also learned coding (i.e., python, machine learning, and natural language processing) so that I can continue to apply it for years to come."
Medical research is designed to improve the health of others. This specific research project, while aimed at benefitting patients with inborn errors of immunity, offers another unique experience for Shin as Dr. Rider's work has been funded by a National Institutes of Health (NIH) grant.
"In addition to incredible honor of engaging in NIH-funded work, I am also working as part of Dr. Rider's dynamic team which includes Kirk Roberts, PhD, MS, an expert in Natural Language Processing (NLP) from the University of Texas Health School of Biomedical Informatics. Dr. Rider and Dr. Roberts are using machine Learning (ML) and NLP to help extract risk indicators for immunologic disease from the text of Electronic Health Records (EHRs). Being able to help predict the presence of PI will go a very long way in effectively treating patients early on and cutting costs for both the patient and the US healthcare system," added Shin.
Shin is also working on additional research projects, under Dr. Rider's guidance, that will continue into the upcoming year, and afford the opportunity for several publications.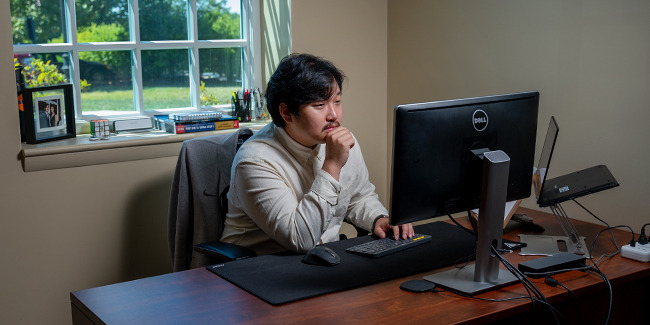 "Another project I am involved in is funded by the Jeffrey Modell Foundation (JMF), and is in direct collaboration with Optum, a subsidiary of United Health Group with a focus on data analytics. Using a data mining tool that Optum has developed, we are able to access United Healthcare's database of several million patients. The tool allows us to categorize the diagnostic codes of said patients into a set of "10 Warning Signs of Primary Immunodeficiency" developed by JMF. The SPIRIT (Software for Primary Immunodeficiency Recognition Intervention and Tracking) Analyzer, developed by JMF and validated by Dr. Rider and colleagues, will be used with the data gathered from the tool to detect and screen future patients that may share these warning signs of PI."
If that's not enough for Shin, he is also contributing to an existing collaboration between Dr. Rider and the Immune Deficiency Foundation (IDF) focusing on the burden that depression and other mental illnesses may have in patients with PI. The data collected and analyzed from the IDF suggests a need for earlier mental health care and screening for every patient diagnosed with a PI. This work will be submitted for publication in the coming month. Shin will participate in the manuscript construction and be named as a co-author.
"It is an honor to be included in each of these projects, and as a bonus, join Dr. Rider weekly in clinical settings to see patients with immunologic and allergic diseases. These patient observations continue to improve my clinical experience and knowledge for the computational projects I am involved in," said Shin.
For Dr. Rider, he believes student-based research and outside collaborations with medical providers enhances and expands upon the mission of LUCOM by providing a level of stewardship, closely aligning with Luke 12:48. "Scripture tells us to take stock of our means in order to aid others," added Dr. Rider. "Through this fellowship, Student-Doctor Shin will gain valuable insights into optimizing healthcare systems for all patients but especially those suffering from rare diseases affecting immunity. He will acquire skills in clinical informatics and data science which could lead to future opportunities for him professionally."
Dr. Rider hopes that Shin's work, as well as other student-researchers, will inspire others to apply for and be involved with medical research. "Scholarly work and innovation are required to improve the state of the U.S. healthcare system and facilitate optimal health of our society. We need bright, enthusiastic and altruistic fresh voices in healthcare to lead that charge. Engagement in research is valuable for students. Through it, they can ask good questions and apply rigorous approaches to answer them. At the end of the day, this will make students more effective physicians as they listen to their patients and seek to help them find solutions to presently unmet needs."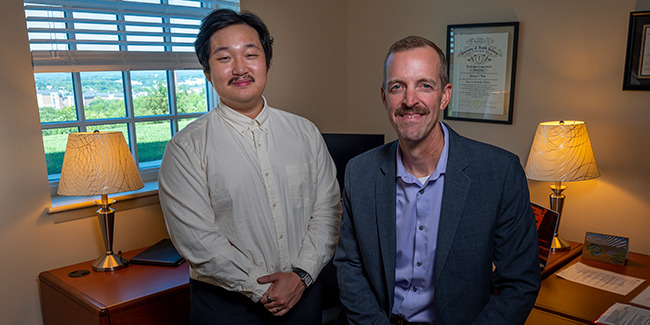 Two important goals for LUCOM's Center for Research is to: 1) increase research and scholarly engagement of LUCOM faculty and students through enhanced mechanisms for seeking and securing intramural funding, increase applications and awards for extramurally funded research, increase opportunities for LUCOM students to engage in mentored scholarly or research activity throughout the 4-year curriculum, and grow in various facets of research and scholarly engagement in both clinical and medical education arenas, as well as biomedical sciences; and 2) increase research and scholarship productivity and impact with dissemination of biomedical, clinical, and medical education knowledge by growing its annual LUCOM Research Day, and increase the number of submitted and published or presented works of research and scholarship.
"Research embodies the mission of an osteopathic physician, treating patients from a holistic perspective. The benefits of diving into research work here at LUCOM are numerous, whether it may be developing important connections with the faculty and project collaborators, or publishing papers and presenting posters that will help you in the future," added Shin. "I truly look forward to the year ahead and am excited to see what it will bring, and truly thankful for the immense support of LUCOM faculty in helping me, every way possible, to help my development as a future osteopathic physician."
For more information about LUCOM's Center for Research, visit Liberty.edu/LUCOM/Research.