Friday, June 22, 2018
LUCOM is awarded initial accreditation for ONMM Residency
Fri, 22 Jun 2018Christopher Breedlove | LUCOM Marketing
Liberty University College of Osteopathic Medicine (LUCOM) has been granted initial accreditation from the Accreditation Council of Graduate Medical Education (ACGME) to begin a new Osteopathic Neuromusculoskeletal Medicine (ONMM) Residency program. The announcement came Thursday evening, June 21, via email. This is the first LUCOM residency program to receive approval since the college was awarded initial accreditation from the Commission on Osteopathic College Accreditation (COCA) on May 10.
"Exactly one-year ago, myself, along with LUCOM faculty, Liberty University President Jerry Falwell, and Provost Dr. Ron Hawkins, all met to discuss our plan to establish an ONMM residency. In our meeting, the President readily endorsed our plan," said Peter A. Bell, DO, dean of LUCOM. "We all thought it would take at least two years. However, through God's divine grace, we are a year ahead of schedule. God always has a plan."
As it turns out, the LUCOM ONMM residency already has a place of special distinction. For the past several decades, all post-graduate training has been provided under the separate accrediting bodies of the ACGME and the American Osteopathic Association (AOA). In 2020, all residency programs will operate under a new agreement that combines both accrediting bodies. While several osteopathic neuromusculoskeletal residencies existed under the AOA and have successfully become accredited under ACGME, the LUCOM ONMM represents the first such residency that will be accredited "from scratch" under the new, combined system.
The ONMM residency is a one-year program that will provide training and specialty certification in osteopathic neuromusculoskeletal medicine. In the medical education process, physicians complete medical school first and then receive 3-7 years of training within a residency program. A physician could apply for the ONMM program after completing an initial residency, such as family practice, internal medicine, pediatrics, or obstetrics and gynecology. ONMM residents will then receive additional training in both an outpatient and inpatient hospital setting, with the primary focus of the neuromusculoskeletal system and its interaction with other body systems.
"Not every patient that comes to see a physician has a medical or surgical problem, sometimes they have a structural one, and this is what causes pain or loss of function," explains James W. Kribs, DO, associate professor of Osteopathic Manipulative Medicine (OMM) and the director of the ONMM Residency Program. "If a physician isn't able to recognize and address that structural issue, it will remain unresolved. This program will allow physicians to expand their skill set to provide treatment options to patients, in addition to medicine and surgery."
While residents' primary treatment tool will be osteopathic manipulation, LUCOM ONMM residents will also incorporate diagnostic, medical, and procedural methods used in neurology, medical orthopedics, physical medicine and rehabilitation, and sports medicine. "Our residents will be trained to provide treatment for structural and functional problems in all age groups, from newborns to our seniors. In addition, they will be well-positioned to provide a unique approach for pain management in an era where there is such need to reduce opioid medicine utilization," added Dr. Kribs.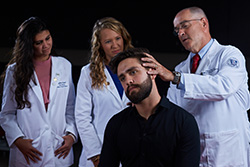 The newly approved LUCOM ONMM was originally conceived by Michael B. Weigner, MD, associate dean of Graduate Medical Education, and David F. Klink, DO, senior associate dean of Clinical Affairs. Together they saw a solution to fulfilling a LUCOM accreditation requirement of creating new residency spots. "We [LUCOM] are required to place all third- and fourth-year students in a residency at some point, especially where osteopathic medicine and the philosophy is practiced. Up till now, most of our clinical partners didn't have OMM residents; this new ONMM program addresses this challenge."
To help create this new program, Dr. Weigner and Dr. Klink brought in Dr. Kribs as well as two key-staff members; Jill Dobson, Residency Program Coordinator, and Katelyn Sherland, Graduate Medical Education Coordinator. Together they formed a new Department of Graduate Medical Education, wrote the 108-page application to ACGME, established partnership agreements, and participated in ACGME site visits.
"It was through the incredible determination, diligence, and hard work of the newly formed GME team that we earned the ACGME Sponsoring Institution status on Jan. 26, with a quick and much-needed appointment of a third ONMM certified faculty member on Feb. 28, and then by anyone's account, received initial accreditation for an ONMM Residency…in less than a year," said Dr. Bell. "This is extraordinary. I am truly thankful to the LUCOM faculty and staff that have poured hours into this endeavor. Praise God."
Dr. Kribs echoed Dr. Bell's sentiments. "This was definitely a team effort, and I work with an incredible team of faculty and staff that all endeavored together and made sacrifices to make this happen. In fact, I think it increased faith in all of us because the project was definitely far beyond our resources as a small department. We had incredible support of President Falwell, Dr. Hawkins, and Dr. Bell, but, more than that, God was faithful. He did exceedingly more for us than we could have ever expected. He arranged key clinical partnerships with Central Virginia Family Physicians, Centra, the Veterans Administration Hospital in Salem, the University of Virginia, Sovah Health in Danville, and even, Michigan State University, and then quickly moved things forward after that."
From earlier conversations with ACGME, the LUCOM ONMM Residency Program was on the docket for discussion later in the fall. "Here we are, with initial accreditation, one day short of a year since the very beginning," added Dr. Kribs.
"Establishing a new residency program is a hugely complicated project. What Dr. Kribs, Jill Dobson, and Katelyn Sherland have done in a short amount of time is remarkable. Through their work, combined with the support of our academic leadership, this new program will take LUCOM to a new level in fulfilling our mission," said Dr. Weigner. "One area in particular is the opiate crisis. The LUCOM ONMM Residency Program is designed and perfectly placed to help contribute towards the solutions of patients in pain by giving no opioid options."
Dr. Kribs also mentioned that this new residency will help train, recruit and retain the physicians who will someday serve in the OMM department at LUCOM. "Our graduates and current students are the future of LUCOM. If we can build a pathway back for them and reinforce our Christ-centered identity and osteopathic heritage, that would be wonderfully gratifying."