Wednesday, November 14, 2018
LUCOM faculty, student-doctor newborn research published in peer reviewed journal
Wed, 14 Nov 2018Asa Keimig | LUCOM Marketing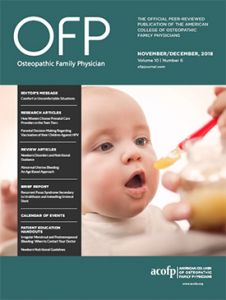 Liberty University College of Osteopathic Medicine (LUCOM) was featured in the November/December edition of the Osteopathic Family Physician Journal with research performed by Raena M. Pettitt, DO, assistant professor of Family Medicine, Thomas Ilustrisimo (Class of 2019), Joyce Song (Class of 2019) and Angela Kim (Class of 2020).
The article Newborn Disorders and Nutritional Guidance focused on the importance of long-term nutrition for infants with newborn disorders specifically; premature birth, cystic fibrosis, Down Syndrome, gastroesophageal reflux, maple syrup urine disease, phenylketonuria and galactosemia.
Dr. Pettitt was approached by Ilustrisimo, after he had read one of her previously published articles, with an interest in collaborating on a written piece. Due to the heavy schedule of a third-year medical student, she encouraged him to ask a few of his classmates to join the project. Ilustrisimo asked Song and Kim to participate. With three different schedules, the group was able to accommodate the deadlines of the Journal.
"The students had a list of topics to choose from, and I actually think they chose the hardest one on the list, but they all rose to the challenge," said Dr. Pettitt. "The sections of the paper were divided amongst the students, and they quickly started searching for research and articles. This gave them a perfect opportunity to advance their knowledge in a field that they did not know much about. You can become somewhat of an 'expert' on a topic just by researching all of the latest information."
Optimal nutritional care and proper medical therapy greatly reduce the possibility of negative outcomes with newborns and greatly increase the chances of survival. The published article stressed the importance of a practitioner being familiar with the basic understanding of nutrition management, in an effort to be adequately prepared for such situations involving newborn disorders.
"Seeing the LUCOM name, especially in the Osteopathic Primary Care Journal, is a significant way to get our name out to the academic and clinical realm. This article may be cited by others doing research, which is a big achievement for these students," Dr. Pettitt said.
The Osteopathic Family Physician Journal is the official peer-reviewed, bi-monthly publication of the American College of Osteopathic Family Physicians (ACOFP).