Tuesday, August 22, 2017
LUCOM Class of 2020 hosts Donor Memorial Ceremony
Tue, 22 Aug 2017Asa Keimig | LUCOM-Marketing
Liberty University College of Osteopathic Medicine (LUCOM) held a special ceremony on Friday, Aug. 18, to recognize the men and women who selflessly donated their bodies towards educating future physicians. The Donor Memorial Ceremony was held at the 701 Thomas Road Campus and organized by the Class of 2020.
The Donor Memorial Ceremony took place during the early afternoon and provided student-doctors with the opportunity to reflect on the past year of anatomical dissection with their first "patients" and recall their experiences.
Offering welcome and thank you remarks to invited family and friends of the donors, LUCOM Class Government Association (CGA) President Calli Fry (2020) said, "When I think back on to my first day of anatomy lab, I remember how my class was unusually quiet walking in. Inside that quietness were feelings of awe, humbleness and respect for the honor we were bestowed in caring for your loved ones."
"Your loved one's impact on our medical education is immeasurable and today we would like to remember and honor their selfless sacrifice," Fry added.
Liberty University Co-Provost and Vice President for Academic Affairs Ben Gutierrez IV, MDiv PhD, led the invocation for the ceremony and was followed by David F. Klink, DO, senior associate dean of Clinical Affairs, who delivered the special message on the value of the body. "Human beings, all human beings, are created in the image of the Almighty God," said Dr. Klink. "Genesis 1:27 tells us, 'So God created man in his own image, in the image of God he created him; male and female he created them, so in all of creation, human beings, and human beings alone, are the image-bearers of the Creator.' Because of this, every person has innate value, dignity and inestimable worth in the eyes of God and in the eyes of all creation."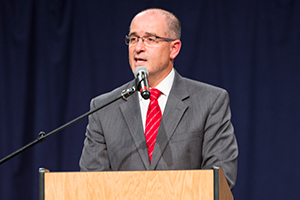 Dr. Klink continued in his message by explaining how throughout scripture, and throughout history, one can see the bodies of those who have passed away treated with reverence and respect. "In almost all religions, and all civilizations, the bodies are handled gently, cared for lovingly, and buried or cremated in accordance with cultural norms and the expressed wishes of the deceased. Our body is our most valuable earthly possession. Everything we do, everything we are and everything we aspire to be depends on it."
R. James Swanson, PhD, professor of Anatomy, discussed the cadaveric role in medical education and shared a unique privilege of introducing a man who had reached out to LUCOM about donating his body to the anatomy lab when he passes away.
Those in attendance heard reflections from four student-doctors who shared their thoughts on what they learned and the impact anatomical dissection made in their lives. "We as medical students have had an amazing opportunity to learn anatomy in a way unlike any other and it is due to the sacrifice of these whom we are honoring today, their families and loved ones," said Bryan Taylor (2020). "As I think back on our time studying anatomy there is one thing that stood out to me and it's getting to learn about and see the intricacy of God's design of how every individual is uniquely created and as Psalm 139 states is 'knit together' and 'fearfully and wonderfully made.'"
"It is easy amidst the chaos of hectic schedules and perpetual intellectual overload to lose our ability to see the sweet daily blessings that accompany our adventure through medical school," said Angela Tseng (2020). "With each passing moment I spent in lab, I was constantly confronted with just how amazing the human body is."
Tseng expressed amazement in the many intricacies of human anatomy in the men and women who provided the invaluable opportunity for her and her classmates to learn. "What I have learned from each of your loved ones far surpasses anything I could have ever learned from any book, no matter how detailed or vivid the images. Your loved ones, without any doubt in my mind, have given us a better understanding of how God has made each of us so different and exceedingly complex, but also given us an opportunity to become better physicians."
Nicholas Battaglia (2020) shared a poem he specifically wrote for this year's Donor Memorial Ceremony:
We are here to remember those who have passed,
Those who gave us a gift that will last.
The gift of knowledge we would never have had,
If we had not learned from those who donated to our lab.
We are not just cutting through tissue and skin,
But working on someone who laughed, frowned and grinned.
Who had family, experiences, and memories aplenty,
So we treat their body reverently and gently.
Now each of them is surely in a much better place,
But did not want their earthly body to go to waste.
So before they left, they performed one final feat,
And became the greatest teachers we would ever meet.
Your loved ones have been with us all year,
Through every memory, every smile, every tear.
They taught us so much that we needed to know,
Every inch of the body from head to toe.
We learned which muscle's tendon connected where,
That arteries and nerves must be handled with care,
That there are so many bones of different size and shape,
And each one was made with a special plan in place.
We could not have understood the body in such depth,
Before seeing how different each body was from the next.
Observing the subtle variations between each person,
Has prepared us to be the best possible physicians.
So we want to thank those who are here,
That got to spend each day, month, and year,
With these special people we honor today,
Who gave us a gift we can never repay.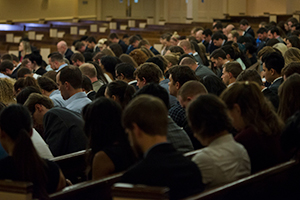 This was the third year a class of student-doctors led a special recognition of those who have given of their bodies to further the education of rising doctors. The faculty, administrative staff, and student-doctors of the College of Osteopathic Medicine are blessed and privileged to have welcomed the families and friends in attendance.