Friday, January 17, 2020
Biomedical Frontiers Seminar Series 2019-2020
Chris Breedlove | LUCOM Marketing
Liberty University College of Osteopathic Medicine (LUCOM) Center for Research hosted its fourth Biomedical Frontiers Seminar Series of the academic year on Wednesday, Jan. 15, featuring Uta Erdbrügger, MD. Her presentation was titled Extracellular Vesicles in Hypertension – Hidden Messengers. Dr. Erdbrügger currently serves as an associate professor of medicine in the division of nephrology at the University of Virginia Health System.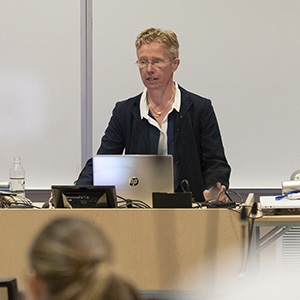 "Hypertension is one of the greatest health problems in the world today and Dr. Erdbrügger's research focuses on the role of extracellular vesicles within hypertension. These extracellular vesicles are particularly interesting as they provide mechanisms for cells to influence other cells and tissues, even when they are located at distinct sites in the body," said Joseph Brewer, PhD, associate dean for research. "By inviting Dr. Erdbrügger to LUCOM, our hope is that her presentation will provide our students and faculty with a better understanding of innovative research in this critically important area of human pathophysiology."
In Dr. Erdbrügger's research, she identified that extracellular vesicles (EVs) are seen as novel biomarkers and bio-activators in health and disease and as such, she places a high focus on kidney disease and high blood pressure. "In the past, EVs were seen as cell trash. Now, they are recognized as novel important regulators in biology," said Dr. Erdbrügger.
Ten years ago, Dr. Erdbrügger began her research trying to find novel biomarkers of vascular damage and during that time she was studying vasculitis – one of the most aggressive inflammatory autoimmune diseases affecting small vessels and the kidney. "The field of EVs is exponentially growing and I believe students will hear about them in the future. Already, some researchers explore EVs for therapy," added Dr. Erdbrügger. "Students need to be aware of novel topics like this."
During her presentation, Dr. Erdbrügger revealed that EVs of leukocyte origin are novel biomarkers in high blood pressure and their levels correlate with blood pressure severity. Additionally, EVs also carry vasoactive factors and likely regulate blood pressure. "I'm a kidney doctor and I'm really interested in EVs in kidney disease and urine samples seem to be an ideal body fluid; it's easily available, cheap and non-invasive. EVs can be released from all parts/cells of the urinary tract and found in urine, thus they are potential novel biomarkers of kidney and urologic diseases."
"It is a privilege to host Dr. Erdbrügger as part of LUCOM's Biomedical Frontiers Seminar Series. Her research and interest on renal diseases and hypertension are ideal to share with our medical students interested in research," added Dr. Brewer.
The next Biomedical Frontier Seminar Series will feature Michael Smith, PhD, professor in the department of physiology and anatomy at Texas College of Osteopathic Medicine. He is also the director of multidisciplinary programs at the University of North Texas Health Science Center. His presentation will be held Wednesday, Feb. 19, at noon, inside the Center for Medical and Health Sciences, at Liberty University.