Tuesday, June 6, 2017
LUCOM anatomy lab and high school students
Tue, 06 Jun 2017Asa Keimig | LUCOM-Marketing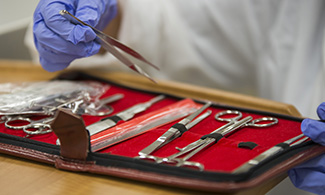 Liberty University College of Osteopathic Medicine (LUCOM) recently hosted Carlisle School's Advanced Placement Biology class at the Center for Medical and Health Sciences on the campus of Liberty University (LU). R. James Swanson, PhD, professor of Anatomy, played a key role in organizing the event and leading interactive anatomical presentations.
Dr. Swanson originally started similar presentations when he first took a faculty position at Old Dominion University (ODU). He would receive phone calls from high school Advanced Placement teachers asking if they could bring their classes to the anatomy laboratory for a field trip and he has since continued the same type of learning experience at LUCOM. The LUCOM Anatomy Lab hosts up to ten field trip tours every year that provides students, from as young as fifth grade up to LU chaplaincy and criminal justice classes, with an opportunity to learn about all of the amazing things a body can do.
"At LUCOM I have always stressed the fact of design in looking at human anatomy and physiology," said Dr. Swanson. "I stress the integration of scripture with studying the body." He starts his presentations with a careful and detailed introduction to the use of human cadavers verses animal cadavers and the Virginia laws that apply to acquisition, use and disposal, with the main focus on respect for the precious and valuable gift given to LUCOM for the study of human anatomy. He then moves on to a description of the nervous system in relation to the stress response that students might have once they go into the lab and are exposed to human tissue. He continues with a lung demonstration that includes dog, pig, and human tissue and from there he teaches on human plastinated material and human cadaver organs. The presentation ends with dissected cadavers. "I use a Socratic approach to teaching, asking many questions as I go, encouraging and answering student questions," he said.
A few of the schools to participate in Dr. Swanson's presentations have been Carlisle School, Liberty Christian Academy, Temple Christian School, Liberty University, Central Virginia Governor's School for Science and Technology, Faith Christian Academy, and several home school groups.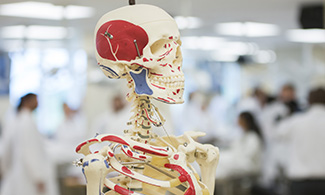 "We strive to provide the best instructional experiences we can for our students," said Sarah Ginter, MS, biology teacher at Carlisle School. "We cannot replicate the experience Dr. Swanson presented to the students." During the lecture Dr. Swanson provided students with the opportunity to experience seeing and handling human tissue and he also took time to educate the students on how their bodies would respond to a stressful situation. "I am sure they will remember his presentation and that it will be an inspiration as they pursue their future interests," she said.
For one student, the presentation was a valuable learning experience. "Learning things in class is one thing, but actually experiencing the anatomy in person helps me learn so much more," he said. The tour provided the student with high-quality visuals of human anatomy and taught him about medical terminology involved in human anatomy. "I learned a plethora of information from Dr. Swanson and was very impressed by his ability to know so much knowledge without having to look at a paper."
Dr. Swanson believes that such learning experiences are valuable in exposing members of the community to what is taking place at LUCOM on a daily basis, in addition to the clear association of how science (knowledge) supports and confirms a Biblical worldview rather than an evolutionary world view.
"Scripture states, 'In the beginning God created the heaven and the earth.' That is a central theme in my approach to these mini lectures and discussions," Dr. Swanson said.