Tuesday, September 29, 2020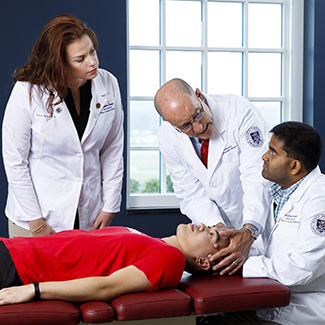 Liberty University College of Osteopathic Medicine Graduate Medical Education Services (LUCOM GMES) sponsored ONMM Residency Program was recently awarded the ability to begin residency training in Graduate Medical Education (GME) with first-year Osteopathic Neuromusculoskeletal Medicine (ONMM) residents by the Accreditation Council of Graduate Medical Education (ACGME).
"This milestone comes with God's timing in surmounting many challenges to successfully arrive at this point in the development, implementation and growth of GME," said Chad K. Brands, MD, CPE, SFHM, senior associate dean for clinical affairs and associate dean of graduate medical education. "This is an enormous milestone for Liberty University, LUCOM and LUCOM Graduate Medical Education Services, and its ONMM Program."
This recognition by the ACGME allows LUCOM to move forward with the full three-year model of training and accepting medical school graduates nationally at the first-year resident level in graduate medical education. Dr. Joy Palmer, program director, and many colleagues contributed to the multi-year effort in graduate medical education.
"We thank God for his timing for this good news at our faith-based institution. This announcement comes as a major contribution to making the case to accrediting bodies that LUCOM is getting the results expected for medical schools in the era of the Single Accreditation System," added Dr. Brands. "We are continuing to build clinical and educational capacity, and this decision announcement represents the opportunity to continue to build the value-chain pipeline with LUCOM GMES and its ONMM Residency Program as we equip physicians to be Champions for Christ for their future work with us in Central Virginia and beyond."
LUCOM ONMM residents will focus on musculoskeletal medicine and will receive training in diagnostic medicine as well as medical, and procedural methods used in neurology, medical orthopedics, physical medicine and rehabilitation, and sports medicine.
"I am proud of all how the incredible hard work and long hours that LUCOM faculty have invested into this new and remarkable residency program. The recognition by the ACMGE is fantastic news. It has been a long journey," said Peter A. Bell, DO, MBA, FACOEP-dist, FACEP, dean and professor of family and emergency medicine.
Two years ago, LUCOM was awarded initial accreditation for ONMM Residency.
LUCOM is located inside the Center for Medical and Health Sciences on the campus of Liberty University.