Friday, March 18, 2022
Chris Breedlove/LUCOM Marketing
Along with all medical schools nationally, Liberty University College of Osteopathic Medicine (LUCOM) celebrated its fourth-year student-doctor class on Friday, March 18, during the annual Match Day.
The day is a culmination of medical schools guiding their senior students through the four-year curriculum. The event is a significant milestone for medical students as they receive their future assignment for residency placement, often referred to as the phase of Graduate Medical Education (GME), the specialty training that follows medical school graduation.
According to the National Resident Matching Program® (NRMP®), the 2022 Main Residency Match reports that 47,000 candidates — international, MD, and DO medical students — applied and competed for 36,000 first-year positions with residency programs. The number of U.S. DO seniors matched with residency programs through the NRMP was 6,666 students, or 91.3%. LUCOM achieved a 100% match for its Class of 2022.
The NRMP was established in 1952 at the request of medical students. The private, nonprofit organization uses a computer-based algorithm to match the preferences of fourth-year medical students with the preferences of residency program directors. The NRMP also conducts Fellowship Matches for more than 60 subspecialties through its Specialties Matching Service.
The Match process begins every summer as students enter their fourth year of medical school and apply and interview to numerous residency programs throughout the country offering specialty training in medical and surgical specialties. Medical students and program directors rank programs and applicants, respectively, in order of preference and submit the preference lists to the NRMP.
Liberty held its Match Day event virtually for students and their families and friends. As COVID-19 changed the medical education platform with both in-person and virtual learning, LUCOM once again held an online video conference call with its faculty, staff, and graduating class to recognize the countless hours the Class of 2022 spent preparing for and successfully completing the Match for specialty residency programs under the guidance of staff, faculty, and LUCOM leadership.
LUCOM Senior Associate Dean for Clinical Affairs Chad Brands, MD, CPE, SFHM, congratulated the Class of 2022 on behalf of the college while offering encouraging remarks on how much effort the students put into securing a residency program through the Match.
"LUCOM has been blessed with outstanding Match rates for its graduating classes, reflecting excellent efforts by staff, faculty, and students, as well as LUCOM's affiliated partner hospitals and healthcare sites that include community-based physicians serving as clinical faculty across the region and nation for LUCOM's students," he said. "Today, March 18, LUCOM is celebrating an extraordinary 100% match rate for its 2022 graduates, a remarkable achievement in its fifth year."
"LUCOM has equipped its graduates well for the next steps of graduate medical education and their careers in diverse specialties, sending students to residency programs in 30 states," Brands added.
LUCOM Dean Joseph R. Johnson, DO, FACOOG (Dist) addressed the students on behalf of Liberty University and its leadership.
"Liberty University and LUCOM are incredibly proud to see how far our fourth-year students have come, especially during the difficult days of COVID-19 that challenged the healthcare industry as well as made medical policy updates across the nation. Part of our mission is to prepare physicians who dedicate themselves to excellence in osteopathic medicine through service toward their fellow man, lifelong learning, and the advancement of medical knowledge — the Class of 2022 is ready to serve and is a part of the continued legacy of LUCOM."
He told the students that they are to be celebrated for the diverse list of specialties they are entering.
"The Lord is good and faithful, and He has guided your steps, and He will continue to do so. You are His hands and feet into communities and residencies. You reflect His love to others. Remember His promises. Remember those who sacrificed and supported you during your four years of medical training. Remember to put others before you. Congratulations to you all — LUCOM's Class of 2022; we are very blessed by you."
Reflecting on her time at LUCOM and her residency plans moving forward, fourth-year student Danielle Lukish said, "I chose to attend LUCOM after completing 16 years of Catholic education. I thrive in types of environments where there is a focus on service to others and one's commitment to their faith in God. At LUCOM, I felt incredibly well supported by my peers and the faculty and staff because of the focus on the importance of community and service to others. Having the privilege to learn osteopathic medicine was a bonus to my learning experience and allowed me to become a well-rounded future obstetrician-gynecologist."
Lukish is headed west to start her journey into women's health.
"I could not be more excited," she said. "I feel very blessed to have been placed in a state where my fiancé and his family are from and where we have an immense support network of family and friends."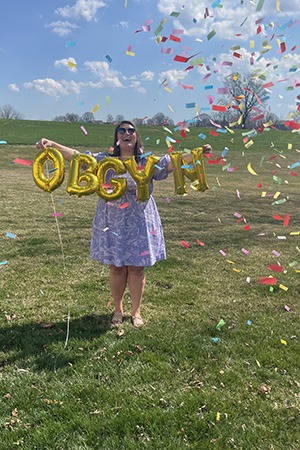 Classmate Abigail Barley was also Matched into OBGYN and is eager to return to her home state and begin her residency.
"I am thrilled to be closer to my family for the next four years. It truly feels surreal to have reached this point of my medical training," she said. "I keep saying that Match Day feels like a dream come true; the culmination of 10-plus years of hard work and determination and a dream I've had since I was 15. Most of my mentors are osteopathic physicians, and I am so grateful to have been matched into the best job in the world!"
Samantha Scarola, who matched into General Surgery, is proud of the collective Match rate of her class.
"After many years of hard work, tears, successes, stress, fear, and diligence, I am so excited that the Class of 2022 has made it to this point. Our incredible class had a 100% match rate this year, and I could not be prouder. I often find myself telling people that I'm unsure if I could have made it through medical school if I was not in Lynchburg at LUCOM. It was so evident that we were loved, cared for, and prayed over. I tell my friends at other medical schools how close my class is and how I feel like every student in my class is a close friend, and they are in shock as they share that they do not know many of the students in their class. The level of love we experienced at LUCOM made it a safe place to learn, fail, and overcome obstacles, and I could not be more grateful."