Friday, April 16, 2021
Chris Breedlove, LUCOM Marketing
This time last year, medical education was completely changed by COVID-19. Virtual learning quickly became the new normal and symbolic milestones annually held in person were occurring on computer screens. On March 19, and like last year, Liberty University College of Osteopathic Medicine (LUCOM) fourth-year osteopathic medical students virtually celebrated the long-awaited news of their Match — their future location for residency placement with family, classmates, staff, and faculty at LUCOM.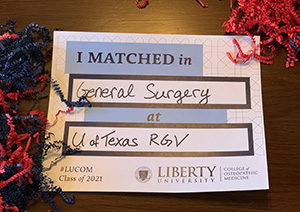 LUCOM has now announced a 98% match rate across the military and civilian sectors. According to the website of the National Resident Matching Program® (NRMP®), the 2021 Main Residency Match was the largest in NRMP history with 38,106 total positions offered — the highest yet. The number of U.S. DO seniors who submitted rank ordered lists of residency programs was a record-high 7,101, an increase of 520 (7.9%) over 2020; 6,327 of them matched to first-year positions, an increase of 359 (6.0%) over 2020 and the highest number ever.
Match Day is a pivotal and momentous moment in the life of a student-doctor, no matter allopathic or osteopathic degree, indicating where they will complete graduate medical education for the next three to seven years, and in some cases, longer. Last year, these two-degree pathways were placed into a single combined match for all students in the National Resident Matching Program (NRMP). This year's Match results were highly anticipated given the change in course of medical education and virtual recruiting that arose during the COVID-19 pandemic.