Wednesday, February 17, 2016
Class of 2018 student-doctors celebrate their next step in becoming physicians
Wed, 17 Feb 2016Shelley Andrews :: LUCOM Marketing and PR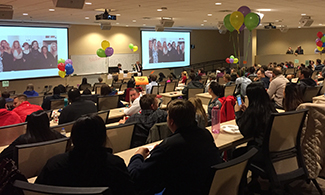 The tension in the lecture hall was intense.
With the iconic theme from "Rocky" playing over the loudspeakers, Ronnie Martin, D.O., dean of Liberty University College of Osteopathic Medicine (LUCOM), walked out to address the Class of 2018 during an inaugural event.
Student-doctors worked hard to focus on his remarks. But it was Dr. Martin's countdown they were waiting for. At the end of it, they would learn the next step in their medical education.
"3, 2, 1…"
It was time to open the envelopes in their hands to learn their clinical rotation site assignments.
"I knew, Matt, my husband, was feeling extra nervous about it so I actually let him open the envelope," said student-doctor Lily Daniel, Class of 2018 president. "We both just felt so relieved to see Centra. It was encouraging to know the next two years will be a bit easier for us as we navigate newly married life and living apart."
Daniel received her first choice, putting her in the strong majority of this year's clinical site rotation lottery. According to Dr. Martin, 80 percent of the class received their first choice, 11 percent their second choice and 9 percent their third choice.
"No one got lower than third. We think this is an excellent effort and outcome for our students," said Dr. Martin.
A few days before the big reveal on Feb. 8, student-doctors were asked to return a form ranking their preference of seven core hospital sites. LUCOM has Virginia locations in Clinch Valley, Hampton Roads, Halifax, Danville, Martinsville and Lynchburg. There are also affiliates in Illinois and Texas.
Over the next couple of days, the Office of Clinical Education spent countless hours working to finalize assignments.
"It truly was the most stressful experience of my professional life," said Teresa Henderson, Director of Clinical Rotations.
Henderson spent a lot of time interacting with student-doctors leading up to the reveal, including learning about the burdens many of them are carrying during medical school.
"This process has taught me how critical it is that we lift these students up in prayer every day because we have no clue what they are going through. The rigors and stresses of just being a medical student are bad enough but when you add the incredible personal trials they are enduring, it is truly only through the Grace of God they are making it," said Henderson.
"I think there was a lot of anxiety leading up to the rotations reveal event, but in the end I heard a lot of positivity," said Daniel. "As the inaugural class it is partly our job to start traditions that will hopefully continue on for many years and I really think this will be one of them."
Getting past the excitement or possibly disappointment of learning the location of the clinical rotation sites, student-doctors are about to embark on the second part of their journey in becoming osteopathic physicians.
The Class of 2018 will have outpatient rotations throughout the region of their core hospital during their third year, which serves multiple purposes in their medical education.
"By placing an emphasis on the primary and general discipline of medicine, it helps to advance LUCOM's mission of graduating osteopathic physicians who will enter community-based resident training programs and ultimately practice in underserved locations in the U.S., and across the globe," said Dr. Martin. "In addition, the OMS-III curriculum is designed to advance the student-doctors' success on boards (COMLEX), which concentrate on general medicine, surgery, obstetrical and behavioral topics."
Meanwhile, the work is far from over for the Office of Clinical Education. They are currently in the process of working to develop new affiliate sites and expanding throughout the eastern and central parts of the U.S.
"If some of these affiliates are signed before the first of April, they will be made available to student-doctors for next year. If not, they will be available for the class of 2019," said Dr. Martin.