Monday, February 19, 2018
Annual Pancakes for Parkinson's raises funds for research
Mon, 19 Feb 2018Asa Keimig | LUCOM Marketing
Liberty University College of Osteopathic Medicine (LUCOM) – Student Osteopathic Medical Association (SOMA) hosted a pancake social to raise funds for Parkinson's research last week. For only $5, the all-you-can-eat event was open to the public and saw donations top $450.
Pancakes for Parkinson's is an annual event held nationwide to raise proceeds for Parkinson's research. All of the proceeds raised by LUCOM-SOMA will go to the Thomas Hartman Center for Parkinson's Research, one of the only organizations researching Parkinson's treatment which do not use embryonic stem cells. Their research uses induced pluripotent stem cells derived from skin or blood cells that have been reprogrammed back into an embryonic-like pluripotent state (by introducing genes important for maintaining the essential properties of embryonic stem cells).
"Supporting an organization which uses induced pluripotent stems to conduct research in developing therapies for Parkinson's allows our chapter to support Parkinson's research while remaining consistent with LUCOM's ideals," said Sarah Neale, Class of 2020, vice president LUCOM-SOMA.
LUCOM-SOMA raised over $450 and welcomed a variety of people including: student-doctors, faculty and administrative staff from the COM, individuals from the Lynchburg community and employees from the campus of Liberty University. "Events like this show our community that LUCOM is not just a school, but rather represents a large group of people who are actively involved in promoting health and well-being in our society," said Neale.
The event's main goal is to raise money to support research to, initially, create treatments to slow the progression of Parkinson's. Current treatments only improve symptoms without having any impact on the progression of the disease. The ultimate goal is to one day be able to cure Parkinson's.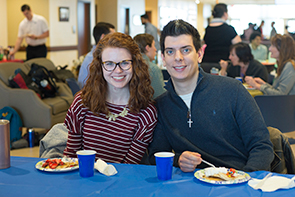 "Events like these help us to remember that our goal as physicians is ultimately to help patients become better," said Neale. "I hope to provide the best possible care for my patients by collaborating with other healthcare providers and working to ensure they have comprehensive, well-coordinated care."
Learn more about the Thomas Hartman Center for Parkinson's Research. Donations accepted online.