State-of-the-Art Medical Care
Providing holistic, patient-centered health care in Osteopathic Manipulative Medicine (OMM), sports medicine, behavioral health, and more, the Liberty Mountain Medical Group offers Lynchburg and its surrounding areas state-of-the-art medical care.
The Liberty Mountain Medical Group (LMMG) is a multispecialty academic medical practice that engages physicians affiliated with Liberty University's College of Osteopathic Medicine (LUCOM). These physicians work in a team-based approach with nurses, allied health staff, and LUCOM medical students.
Our medical center is patient-focused and gives LUCOM students the opportunity to participate in treating patients under the supervision of physician instructors.
The LMMG is part of LUCOM's commitment to expanding access to quality health care for all those in our region and state.
Contact Us
Phone: (434) 582-2273
Fax: (434) 582-1363
Location:
2321 Wards Rd
Lynchburg, Va. 24502
Appointments
Before being seen, patients must have a primary care physician. Patients seeking OMM, must have a referral prior to scheduling an appointment.
---
Our Health Services
Liberty Mountain Medical Group offers preventative, primary, and chronic health care through providers certified in the following disciplines:
Behavioral Health
Endocrinology and Diabetes
Osteopathic Neuromusculoskeletal Manipulative Medicine
Sports Medicine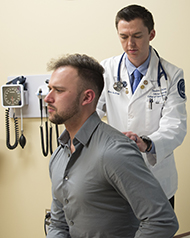 ---
Faculty Physicians
The following LUCOM physicians are faculty at Liberty Mountain Medical Group:
Teresa Ramerth, MD (Behavioral Health)
Andrew Behnke, MD, FACE (Endocrinology and Diabetes)
Lisa Wisniewski, MD (Endocrinology and Diabetes)
Shana Greven, DO (Osteopathic Neuromusculoskeletal Manipulative Medicine)
Joy Palmer, DO (Osteopathic Neuromusculoskeletal Manipulative Medicine)
Bradley Haupricht, MD (Sports Medicine)
Mark Rolfs, DO (Sports Medicine)