Monday, April 3, 2017
Mon, 03 Apr 2017 | Christopher Breedlove | Director of Marketing, PR, and Web-Operations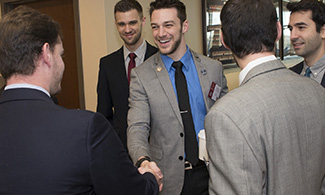 Liberty University College of Osteopathic Medicine (LUCOM) welcomed over 100 student-doctors from around the country on Saturday and Sunday, April 1 and 2, for the 2017 National Student Osteopathic Surgical Association (SOSA) Conference. The yearly conference gave participants the opportunity to enhance and improve their surgical skills as well as hear from local and national practicing surgical specialists. Every year SOSA members vote on the location of the conference for the following year; in 2016, LUCOM won the vote and this year's conference was hosted and sponsored by LUCOM-SOSA.
"This is the first national conference that LUCOM has hosted. The expectations were high and I am very proud of all the planning and work that was poured into making this event a great success," said LUCOM Interim Dean, David F. Klink, DO. "Our student-doctors are second-to-none and the LUCOM-SOSA officers truly gave it their all – this was an incredible opportunity for them and they really came through and produced an outstanding conference."
SOSA is the official student section of the American College of Osteopathic Surgeons (ACOS) comprised of a national chapter and several local chapters of osteopathic medical schools. The organization was established for student-doctors interested in surgical specialties and allows them to participate in educational and clinical opportunities that are sponsored by the ACOS.
"Planning and giving service to the conference is a sacrifice for our students. Medical school is hard enough without any extracurricular activity. Our students went above and beyond the call and I am humbled by their professional response," said Ray L. Morrison, DO, FACOS, assistant dean of Clinical Education. "I think the student officers from LUCOM-SOSA wanted to "set the bar" and by all indications, they did."
According to Dr. Morrison the material presented by the visiting national speakers showed their heart and passion for their specialties. "Interestingly the topics presented were at a level that was understandable by all attendees, and at the same time, a challenge for the students to learn more."
Among the notable line up of speakers, attendees were greeted by two surprise guests at the beginning of the conference. Offering the invocation was Ronald E. Hawkins, D.Min., Ed.D., vice president for Academic Affairs and Provost for Liberty University, and Scott A. Blickensderfer, DO, FACOS, president of the American College of Osteopathic Surgeons.
Offering encouragement to the student-doctors, Dr. Hawkins said, "The Lord is with you. What you inspire to do, in my view, is very noble. You will soon meet patients at their most critical time of need and in reality, you are not capable of healing every one. That is very humbling. You will do a lot of good and I am thankful for your future years of service."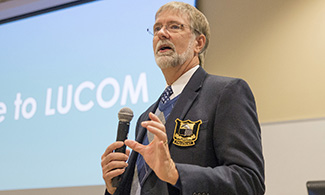 "In my mind, there is no better attending physician than the attending surgeon," said Dr. Blickensderfer. "The humbleness of looking at a human body and understand how we're designed, there is something that transcends. Yes, there is a lot of work, but there is a great sense of self-satisfaction to watch someone move from illness to health."
For the conference LUCOM-SOSA brought in Marc Billings, DO, to lead a presentation on neurosurgery; Franco M. Coniglione, DO, an orthopedic trauma surgeon at Carilion Clinic Orthopedics, to lead a session entitled "Arbeitsgemeinschaft Osteosynthesefragen (AO) Principles"; Anita Jeyakumar, MD, FACS, FAAP, director of the Carilion Clinic Cochlear Implant Program at the Carilion Clinic, to lead a session on otolaryngology and cochlear implants; Shawn D. Safford, MD, MAS, the surgeon-in-chief and section chief of Pediatric Surgery at Carilion Clinic Children's Hospital, to lead a lecture entitled, "Operation Unified Response on the USNS Comfort"; and Dawn R. Tartaglione, DO, FACOS, board-certified neurosurgeon at AllianceHealth Midwest, discussing neurosurgery as a day job.
LUCOM also welcomed back Jeannie Savas-Rivers, MD, FACS, chief of surgery at Hunter Holmes McGuire Veterans Administration Medical Center in Richmond, Va., to lead a session on "Robotic Applications in Abdominal Surgery." She is the daughter of Liberty University founder Jerry Falwell, Sr., and this was her second visit to LUCOM since the Center for Medical and Health Sciences was dedicated in 2014.
Also presenting was Adam B. Smith, DO, FACOS. "I think what I do really incorporates the osteopathic philosophy, outside of the proper surgical techniques. You get to see people improve their lives. Whether you are a neurologist, a general surgeon, or OB/GYN, the cutting and techniques are fun, but seeing people make positive changes within their life is what it is all about." Dr. Smith led the first session on metabolic and bariatric surgery.
The national conference was packed with afternoon labs and interactive workshops that dove deeper into surgery and operations; ophthalmology; techniques on intubation, suturing, and splinting; and how to properly "scrub-up" before an operation, as well as, osteopathic manipulative management of the surgical patient. Participants also made use of LUCOM's portable ultrasound equipment and were trained on how to respond in a life-or-death setting through an emergency triage session taught by emergency responders from the City of Lynchburg Fire Department.
LUCOM student-doctor Michael Blade Sullivan, class of 2019, former-president of LUCOM-SOSA was one of the main organizers of the conference. "I am truly honored to have the speakers attend and share their knowledge and wisdom with us. It is a privilege to have the opportunity to learn from such renowned surgeons. It's great to hear from their experiences and see them get on our level too, that becoming a doctor is hard but there is light at the end of the tunnel. That's exciting and I was inspired to become the doctor God needs me to be."
Sullivan also said, "Our [LUCOM-SOSA] hope was to inspire the students to truly be the best physicians they can be, as well as foster and encourage fellowship amongst each other. Our goal is to start building our medical family as we learn to care for others. We want to love them as Jesus would love them."
According to Dr. Morrison, Liberty University sought to develop an osteopathic medical school over an allopathic medical school because of the emphasis on body, mind, and spirit. "I am thankful to Liberty University for giving this young COM the opportunity to represent, in tangible action, the mission and vision of our school."
See the complete gallery of digital images at Facebook.com/LibertyMedicine.