Thursday, January 17, 2019
LUCOM faculty, student-doctors, and alumni collaborate on medical research
Thu, 17 Jan 2019Asa Keimig | LUCOM Marketing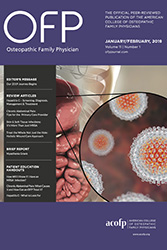 Liberty University College of Osteopathic Medicine (LUCOM) was featured in this month's edition of the Osteopathic Family Physician Journal (OFPJ). The published work was written by Raena M. Pettitt, DO, assistant professor of Family Medicine; Matthew Hadfield, DO, Class of 2018; Steven Siragusa, DO, Class of 2018; and Sri Kota, Class of 2019.
The OFPJ is the official peer-reviewed journal supported by the American College of Osteopathic Family Physicians (ACOFP). It is a bi-monthly publication that features original research, case reports and articles about preventive medicine, managed care, osteopathic principles and practices, pain management, public health, medical education and practice management.
Focusing on infectious disease and the importance of distinguishing between complicated and uncomplicated SSTIs, this month's review article is entitled "Skin and Soft Tissue Infections: It's More Than Just MRSA." The successful treatment of all SSTIs is a crucial component that diminishes the changes of complications in addition to hospital admissions.
"It is important to know that getting an article published is a long process," said Dr. Pettitt. "This process teaches patience, perseverance, and attention to detail. It took about 18 months from the initial team meeting to this publication."
Prior to this article, Dr. Hadfield and Kota had once worked together previously on another article with Dr. Pettitt in 2017. It too was published in the Osteopathic Family Physician Journal, titled "Abnormal Loss of Weight."
Liberty medical students are often presented with scholarly opportunities to better prepare them as future osteopathic physicians. "Not only did the students become 'experts' in the topic of methicillin resistant staph aureus, they also had to research other infectious etiologies of skin infections," said Dr. Pettitt. "Infectious disease is a big topic on Boards, so I hope they were able to use the information they learned to help prepare them for Boards."
Dr. Pettitt encourages students that are interested in research to reach out to LUCOM faculty who are already working on scholarly activity and could potentially need assistance. "I truly believe it is worth the effort," she said.