Thursday, March 3, 2022
Chris Breedlove, LUCOM Marketing
As Liberty University College of Osteopathic Medicine (LUCOM) continues to grow and develop its research program, so does its students' involvement in high-quality faculty research projects. On Feb. 25, during the annual Edward Via College of Osteopathic Medicine (VCOM) Research Recognition Day, Liberty University was well represented with 15 osteopathic medical students and three LUCOM faculty members. Two student groups claimed first prize in two areas: Medical Student Research (Biomedical) and Medical Student Research (Clinical).
The poster for Medical Student Research (Biomedical), "Development of A Novel Brain Atlas of Acmomys Cahirinus (Spiny Mice)," was presented by second-year osteopathic medical student Teresa Nguyen (2024), and faculty mentor Shekher Mohan, PhD, associate professor of pharmacology.
Acmomys cahirinus, or more commonly known as the African spiny mouse, is an emerging rodent research model in the field of regenerative medicine. Right now, the African spiny mouse is not a commonly used model organism in neuroscience research though African spiny mice pups can be behaviorally assessed postnatally due to advanced brain development in utero. The aim of the research project was to create a neuroanatomy atlas of the African spiny mouse brain. The conclusion of the study remains in-progress; however, preliminary results show that frozen spiny mice brain tissue can be sectioned, stained, and imaged for analysis. The research team highlighted during their presentation that future work will involve sectioning areas of the brain involved in addiction i.e., VTA and NAc. Additionally, work in optimizing an immunohistochemistry protocol will be important for the further categorization of cell types in the brain tissue from spiny mice.
"There will be a continuation of this project throughout the semester and during the summer," said Nguyen. "Engaging in biomedical research provides students with the opportunity to apply and gain knowledge by having hands-on experience conducting experiments, learning new laboratory techniques, and interpreting data while under the guidance of our amazing [LUCOM] faculty."
The poster for Medical Student Research (Clinical), "Delay in Clearance of Labeled Protons in Patients with Acute Head Trauma Utilizing MRI 3D TGSE PASL (Arterial Spin Labeling) is Consistent with The Clearance Results Shown in Patient with Alzheimer's Disease," was presented by second-year osteopathic medical students Bryce Grohol, Bless Jung, Stephan Kim, and Marija Zivcevska (2024), and first-year osteopathic medical student Jubin Kang (2025), with faculty mentor Charles R. Joseph, MD, assistant professor of neurology.
For Bryce Grohol, he has always felt that bench research of the basic sciences is extremely important, and his hope was to join a project that would continue to improve healthcare delivery. "The work we are doing could make a very large impact on the way we handle the diagnosis and treatment of traumatic head injury in not just athletes, but anyone suffering from a concussion. Dr. Joseph's project was something that I took an immediate interest in upon hearing his description, and looking back I'm extremely happy I pursued working with him."
The focus of this research project was centered around concussive-brain injury and its connection to neuroinflammation, along with the disruption of the blood brain barrier (BBB). It has been documented that gliosis may occur afterwards, and the neuroglia may impair the clearance of cerebral spinal fluid. The goal of this study was twofold: 1) to use glymphatic flow as a tool to measure change in brain function following head injury and 2) to assess whether normal glymphatic flow returns once individuals are cleared to return to normal activities. The students' findings showed that by comparing one concussive subject to two activity-matched controls, frontal and bilateral regions had reduced glymphatic clearance bilaterally. As a preliminary study, the reduction in clearance among post-concussion groups presents a strong trend that should be explored further.
For Jubin Kang, her interest in studying neurodegenerative diseases such as Alzheimer's disease and Amyotrophic Lateral Sclerosis (ALS), led her to be a part of Dr. Joseph's research endeavors. "Our study focuses on concussive-head injury, which may have a detrimental effect on the brain in the future, like dementia. Catching the pathological signs of dementia early in a patients' life can prevent irreversible damage to the brain," she said. "With our MRI Arterial Spin Labeling (ASL) technique, we are hopeful to measure the damage in the brain and potentially provide patients with appropriate treatments which may prevent devastating diseases in the future."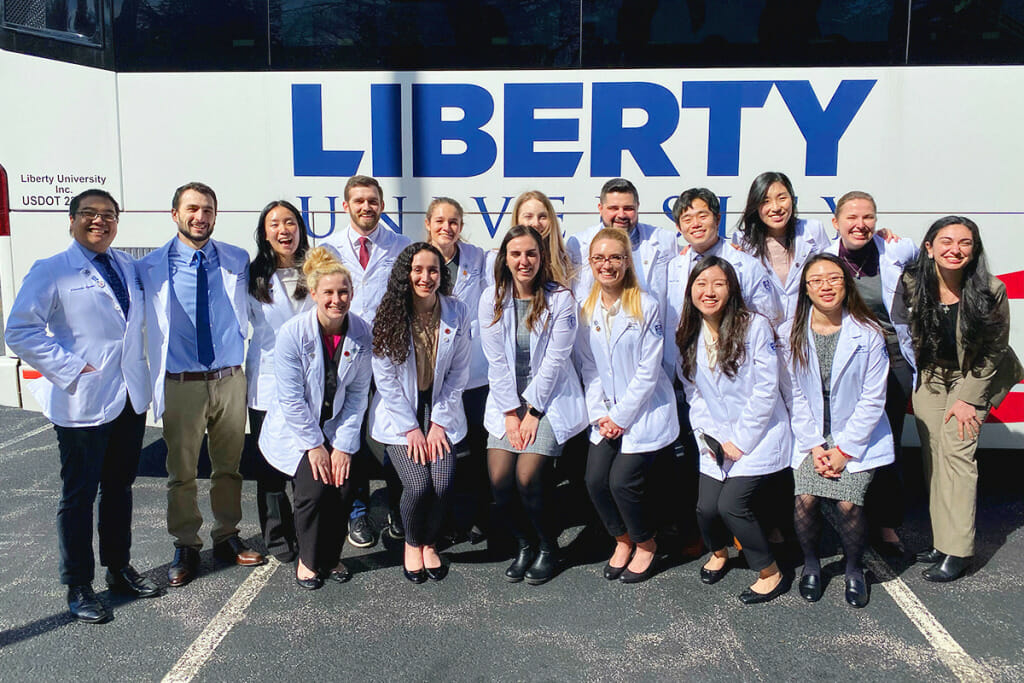 Many of these students began their research experiences through the summer research elective that is orchestrated by LUCOM Center for Research and the Office of Medical Education. While research is not a requirement of the curriculum, it is encouraged to assist students with future residency applications and increase their clinical knowledge. "I am a strong advocate for basic, translational, and clinical research studies. Medical research exists to better serve patients and further expand our knowledge of incurable diseases. Advancement of medicine has been accomplished by people who have dedicated time and resources to improve current clinical care and discover new treatments. I am confident that medical students will benefit from being part of this journey and appreciate the crucial role of medical research," added Kang.
For Marija Zivcevska, she believes that medicine is a dynamic field that is constantly evolving and requires a healthy dose of curiosity among the medical community. "Being part of research is one way to help evolve clinical practice, our understanding of complex disease processes, and ultimately improve patient care. Our [research] goal was to quantify the physiological changes that take place in the brain post injury and use MRI to objectively measure how the brain heals. We are still in the early stages of this project and will certainly be continuing to add more research subjects over time."
"Congratulations to all our students for attending and going above and beyond to represent LUCOM. The students' success was not just well presented at VCOM's annual event, but more so is reflected in their work throughout the year. Attending and presenting at VCOM was a great day," said Dr. Mohan. "I'd also like to thank our dean, Dr. Joseph Johnson, for his incredible student support and working to advance LUCOM's unique and diverse research efforts."
"At LUCOM, we have a goal to contribute to the advancement of medical knowledge and advance the quality of health care for society through educational, scientific and clinical research, and the promotion of effective health policy and other scholarly activity," said Joseph R. Johnson, DO, FACOOG (Dist). "A key word is research. When Liberty University osteopathic medical students, under the guidance of our incredible faculty, push themselves to explore and research legitimate questions in the medical community and then present their work to not just their medical peers but also medical experts and receive high praise, I am left with incredible optimism at the caliber of our program and the quality osteopathic physicians they will become one day. These students and their faculty mentors are to be recognized for a job well done, and I am honored to serve as their dean at LUCOM."