Thursday, September 19, 2019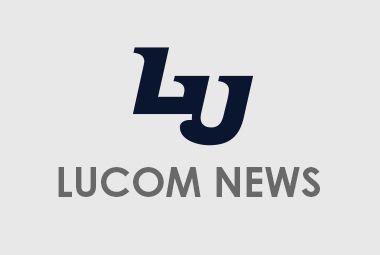 Chris Breedlove and Asa Keimig | LUCOM Marketing |
Sep 19, 2019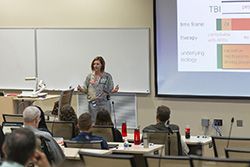 Liberty University College of Osteopathic Medicine (LUCOM) Center for Research hosted its first Biomedical Frontiers Seminar Series of the academic year on Wednesday, Sept. 18, featuring Stefanie Robel, PhD, assistant professor at Fralin Biomedical Research Institute at Virginia Tech Carilion School of Medicine. Her presentation was titled, Astrocytes: Culprits in Traumatic Brain Injury and Epilepsy.
"The theme of my talk is the role of astrocytes, glial cells in the brain, in traumatic brain injury and acquired epilepsy," said Dr. Robel. "Even a single mild traumatic brain injury/concussion can have lifelong consequences. One of those can be post-traumatic epilepsy. Although we know the initiating event, so far there is no therapeutic that interrupts the development of epilepsy after TBI. Astrocytes are crucial for normal neuronal function and change very early after mild traumatic brain injury/ concussion. These changes in astrocytes might be a root cause in the progression from TBI to epilepsy."
Her visit to LUCOM to share her work provided an excellent opportunity for faculty, osteopathic medical students, and outside guests to hear about the newest information in a rapidly developing field and to see first-hand how these types of medical problems can be investigated in the laboratory, with the ultimate goal of improving patient care and human health. "TBI and epilepsy are both major problems for human health," said Joseph W. Brewer, PhD, associate dean of research at LUCOM. "Dr. Robel's innovative research is at the interface of these two critically important topics."
Dr. Robel began her research as a graduate student in Germany with longstanding interest in the changes that astrocytes undergo in response to brain injury. "This is the main focus of my research lab because I find the many roles that astrocytes play in brain function fascinating," said Dr. Robel. "I believe that our study of astrocytes in the context of injury and disease will help us understand how the brain adapts to challenges. Our finding that repeated mild Traumatic Brain Injury is sufficient to induce seizures was unexpected and has shifted our focus from TBI to post-traumatic epilepsy."
As indicated in her research, changes in astrocytes are among the earliest cells observed after mild TBI/concussion and proper astrocyte function is essential for normal brain function. Astrocytes are required for normal neuronal function at the tripartite synapse, but also have an important role as they respond to damage to the brain. "We suspect that targeting astrocytes after mild TBI and concussion might be key to ultimately developing treatments," she said.
Dr. Robel also mentioned that there is currently no treatment available to resolve root causes inducing long term symptoms/disease after TBI. She believes that evidence-based medicine is vital to enabling medical doctors to base their professional services on solid research, through the scientific process and in the effective use of the scientific literature as part of their practice.
"Research seminar series are a great opportunity for medical students to interface with researchers and to learn about cutting edge science," added Dr. Robel.
The BFSS events host a variety of distinguished speakers throughout the academic year at LUCOM with the intent of offering diverse fields of research, including molecular and cellular biology, physiology, microbiology and infectious diseases, healthcare and medical advocacy. The next BFSS session will feature Christopher M. Reilly, PhD, professor and chair for cellular and molecular physiology at Edward Via College of Osteopathic Medicine. It will be held on Wednesday, Oct. 9, at noon, inside the Center for Medical and Health Sciences on the campus of Liberty University.