Monday, October 14, 2019
Biomedical Frontiers Seminar Series 2019-20
Liberty University College of Osteopathic Medicine (LUCOM) Center for Research hosted its second Biomedical Frontiers Seminar Series of the academic year on Wednesday, Oct. 9, featuring Christopher M. Reilly, PhD. His presentation was titled, The Role of Histone Deacetylase 6 Inhibition on Systematic Lupus Erythematosus. Dr. Reilly currently serves as professor and chairman for cellular and molecular physiology at Edward Via College of Osteopathic Medicine (VCOM) in Virginia. He is also a research associate professor at Virginia-Maryland Regional College of Veterinary Medicine at Virginia Polytechnic Institute and State University.
"It was a real pleasure having Dr. Reilly visit LUCOM as our guest speaker. He is heavily knowledgeable in autoimmunity and understanding molecular mechanisms underlying autoimmune phenomenon. Much of his work is involved in understanding the autoimmune disease, lupus, and he has been very productive in his research and publications," said Joseph W. Brewer, PhD, associate dean for research.
Two key points in Dr. Reilly's presentation was that lupus involves dysfunction of the innate and cell mediated immune system, and that there is no cure, only generic treatments. "I hope the student-doctors walked away from my presentation knowing how lupus is a multi-factorial disease and there are not good cures and that epigenetics may regulate the disease," he said.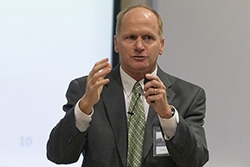 Dr. Reilly mentioned that lupus occurs in 140 per 100,000 in the U.S., more so with women than men, specifically during their child-bearing years. "It is difficult to definitively diagnose, and the etiology is unknown," he said. "There are multiple abnormalities that contribute to the disease such as a break in immune tolerance, B and T cell signaling and functions, cytokine and chemokine production, apoptosis and clearance of debris, and the formation of auto-antibodies." Current treatments include immunosuppressants, such as corticosteroids, and a biologic agent (monoclonal antibody), although its use has yielded disappointing results. Dr. Reilly's research explores novel therapeutics that target epigenetic mechanisms that may contribute to the development and progression of lupus.
Originally, not knowing anything about lupus, Dr. Reilly got started with this research during a post-doctoral fellowship at the Medical University of South Carolina. "It has been most interesting and like myself starting in unfamiliar research territory, I think it is great exposure for the students to learn about research as much and as early as possible," he added.
Dr. Reilly also mentioned that he heard of LUCOM from Dr. Ronnie Martin, the founding dean, and that he enjoyed working with him at VCOM.
The next Biomedical Frontier Seminar Series will feature Zequan Yang, MD, associate professor of cardiovascular medicine and biomedical engineering at the University of Virginia. His presentation will be held on Wednesday, Nov. 20, at noon, inside the Center for Medical and Health Sciences, at Liberty University.