Monday, March 26, 2018
Liberty University student-doctors celebrate first Match Day
Mon, 26 Mar 2018Liberty University News Service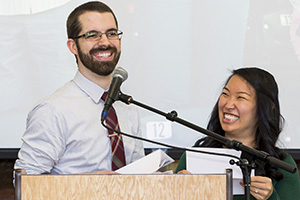 When the clock struck noon, Liberty University College of Osteopathic Medicine (LUCOM) student-doctor Alex Hamilton didn't hesitate. He rushed to the front of the room where envelopes sat on a table, containing the location where he and his wife, Shannon, will complete their residencies.
The Hamiltons were just two of the thousands of fourth-year medical students around the country who participated in a Match Day Celebration on Friday, an honored medical school tradition. Each year, the National Resident Matching Program (NRMP) informs applicants of where they've been placed for their post-graduation residency training. It is the first day students find out where they will spend the next three to seven years in training.
While Match Day is a milestone for all medical students, it was especially significant for LUCOM. On May 19, Liberty will see its first class of 126 student-doctors graduate.
Read and watch the full Liberty University story.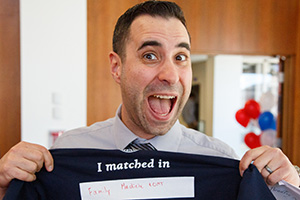 Additional online stories
View digital images on Facebook; gallery one, gallery two.