Monday, September 20, 2021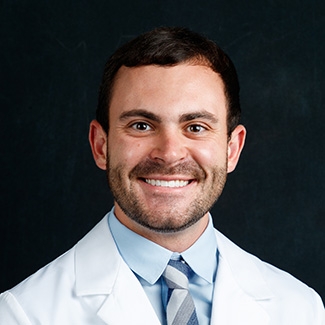 Chris Breedlove, LUCOM Marketing
Liberty University College of Osteopathic Medicine (LUCOM) hosted its annual White Coat Ceremony on Saturday, Aug. 21. It was on this day when osteopathic medicine student Brenner Johnson, Class of 2025, introduced himself as a fourth-generation member of his family to continue in medicine. Standing proud on stage alongside a few of his peers and in front of his family, Johnson was bestowed the infamous white consultation coat by his grandfather, Juan Carlos Giachino, Sr., MD."
Having my source of inspiration by my side during one of the proudest days of my life was an amazing experience," said Johnson. "I will always look up to my grandfather as an amazing physician; however, in my heart he's 'Pops' — the loving, goofy, and supportive grandfather whom I love."
Originally from Fort Worth, Texas, Johnson graduated from the University of Texas at Austin with a bachelor's degree in biology and earned his master's degree in bio-medical sciences from the University of North Texas Health Science Center.
"Ever since I was a Boy Scout in Texas, I have loved helping others. At a young age, I was taught to accept responsibility with open arms and have carried that passion with me to medical school. Along with my passion, I had an equally strong fascination with anatomy and physiology," he added. "I believe that the human body is an incredible machine capable of solving many of its own problems while creating unique challenges for us in the medical field to overcome."
Johnson's fascination with anatomy and physiology, along with his desire to work with his hands, led him to osteopathic medicine.
"Medicine is so much more than prescriptions and Band-Aids. I believe that treating the whole person (body, mind, and soul) is paramount in not only curing disease but elevating a patient's quality of life. Osteopathy looks through many lenses at many angles to solve our patients' problems, which I love," he said. "Maintaining a healthy lifestyle is something that I am personally passionate about and want to integrate into my future treatment plans."
"As medicine and technology change, I want to learn how to incorporate passionate care with the most effective treatment modern medicine has to offer," he added, "and I believe that an osteopathic education is the best way to realize my goals."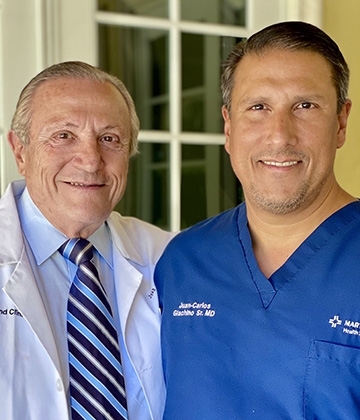 Johnson's family is originally from Argentina, where his great-grandfather and grandfather served as physicians. His grandfather began his career in general surgery, later moved to the United States, and eventually opened a plastic surgery practice in Stuart, Fla., with Johnson's uncle, Juan Carlos Giachino, Jr., MD, where they both performed cosmetic and reconstructive surgeries. Johnson is the fourth member of his family to pursue medicine after his great grandfather and grandfather, and uncle.
During Johnson's college years, and while preparing to apply to medical school, he was not only able to shadow his own family physician but also surgeons near his hometown. One of his favorite experiences as a pre-med student was working shoulder to shoulder with doctors as an Emergency Room technician.
"It was those opportunities to shadow consistently active physicians in very fast-paced clinical settings where I was able to get literal hands-on experience that only motivated me more to take on the responsibility as a physician in the future," he said.
When Johnson began applying and interviewing at medical schools across the country, Liberty University College of Osteopathic Medicine became an easy choice to pursue as he believes the medical education at LUCOM holds onto many classic medical traditions and standards that he can relate to personally, especially in anatomy and surgical specialties. He also appreciates how LUCOM gives its students the resources and inspiration to pursue more competitive match opportunities.
"With state-of-the-art facilities, run by passionate and friendly faculty, all sitting atop Liberty Mountain, I couldn't have picked a more perfect place to learn about the body and myself. Despite only having just started my time here at LUCOM, I already feel like I am part of a family that cares about my future," he said.
Looking back on growing up with several doctors in the family, Johnson considers himself very fortunate to have an incredibly supportive family. "Despite my apparent genetic predisposition to pursue medicine, both my mom and dad would have supported any career that I might have chosen, which makes me even more confident in the direction I am going. Every day, I learn something new here at LUCOM and I love to excitedly explain new scientific 'fun facts' to my folks," he added. "My family is proud of my achievements and cannot wait to see where my medical journey takes me, especially when I start to treat patients."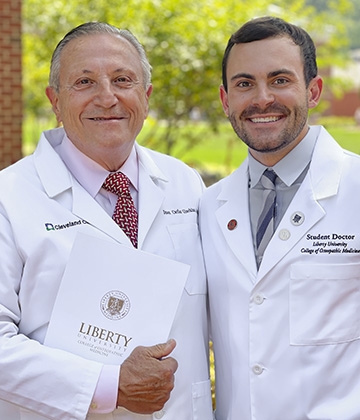 Starting medical school is always an exciting and challenging time for medical students, whether they have already determined the specialty they hope to practice in or they remain open to any possibility. Considering his family's background, Johnson is keeping his options open.
"Right now, I am confident that I chose the right medical school, and I am confident that LUCOM will provide an amazing look into all the different routes available when the time comes."
As a new osteopathic medicine student, Johnson is an advocate for taking time, however little, to enjoy one's hobbies. When he's able to take a break from studying and labs, he enjoys cooking and hiking, as well as photography and the occasional fishing. He also enjoys developing his steady hand by practicing suturing.
"I am so grateful to LUCOM and its faculty for giving me this chance at following my dreams. I am ready to take on the world and make a difference in the lives around me," Johnson said.