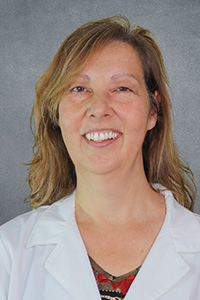 Assistant Professor of Psychiatry; Community-based Specialty Lead, Clinical Psychiatry
Education
MD, University of Kentucky, 1993
MA (Philosophy), University of Kentucky, 1989
BS (Zoology), University of Kentucky, 1985
Forensic Psychiatry Fellowship, Yale University, 1998
Resident in Psychiatry, William S. Hall, Psychiatric Institute, 1997
Categorical Internship, William S. Hall Psychiatric Institute, 1994
Courses Taught
OMS-IV, Advanced Outpatient Psychiatry
Professional Memberships
General Psychiatry Residency Training Program Committee (Resident Member, 1993-1996, Resident Activities Coordinator, 1995)
South Carolina Psychiatric Association, Ethics Committee, 1995
South Carolina Psychiatric Association Newsletter "In Touch" (Editor, 1995-1996)
South Carolina Psychiatric Association Delegate to South Carolina Mental Health Liaison Organization, 1996-1997
American Psychiatric Association, 1993-2000
International Committee, American Academy of Psychiatry and the Law, 1998-2000
Ginsberg Fellow, Group for the Advancement of Psychiatry, 1995-1997 (Legal aspects of pastoral counseling.)
Board of Trustees, Ginsberg Fellow Representative, 1995-1997
Congressional Fellow, American Psychiatric Association, 1996 (Healthcare advisor to Senator Jeffords of Vermont.  First formal fellow in the history of the program.)
Biography
Teresa Ramerth, MD, is board certified by the American Board of Psychiatry and Neurology in Adult and Forensic Psychiatry. She graduated from the University of Kentucky School of Medicine and completed residency at William S. Hall Psychiatric Institute in Columbia, South Carolina. She completed a Fellowship in Forensic Psychiatry at Yale University.
Dr. Ramerth's interest in psychiatry resulted from observing the difficulties a brilliant family member experienced growing up with depression and getting help from a Christian psychiatrist. She saw the courage and determination it required and was inspired to help others. She has been privileged to work in a vast array of treatment settings both nationally and internationally.
Dr. Ramerth has a particular interest in working with multicultural integration.
She returned to the US after a year living and working in New Zealand addressing cultural divergences there. Then joined a distinctly Christian based practice with Curt Thompson, MD. Utilizing principles of IPNB (Interpersonal Neurobiology) as it relates to Spiritual formation.
Publications
Published article for Physician's Practice magazine. Physicians prescribing for family members, 2010.
Research Interests
Research Fellow, National Institutes of Health, Bioethics Program, 1990. (Research involved the Durable Power of attorney for Health Care at National Institutes of Health.)
Research Assistant, University of Kentucky, Department of Psychiatry, 1991. (Research involved pregnant women, drug abuse, physical abuse and sexual abuse.) Nominated for AOA (Medical Honors Society) presentation.

Research Assistant, University of Kentucky, Department of Neurology, 1992. (Research involved ethics and persistent vegetative state.)

Research Fellow, Otago University, Dunedin, New Zealand, 1993. (Research of the healthcare delivery system in relation to the Maori population.)