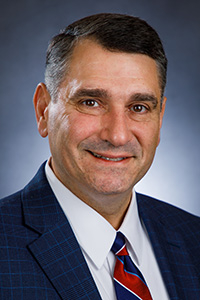 Dean, Professor of Law
Education
J.D., Campbell Law School
LL.M., Litigation Management, Baylor University School of Law
M.B.A., Campbell University
B.S., Charleston Southern University
Experience
Dean of Liberty Law since Fall 2015
Served Campbell University for 11 years:

Dean, Lundy-Fetterman School of Business
Associate Dean for External Relations, School of Law
Executive Associate Dean for Academic Affairs and Administration, School of Law
Vice Dean, School of Law
Interim Dean, School of Law

Was instrumental in the following successful strategic initiatives at Campbell:

Led a team that raised over $2 million in 18 months
Designed and constructed the First Citizens Wealth Management Center
Increased the incoming class size entering the School of Business by 20 percent
Developed a new finance major and minor
Launched the online MBA
Relocated the traditional MBA program to downtown Raleigh
Partnered with the University of Reading in England for an international business certificate
Developed dual degree programs with Campbell's College of Pharmacy and Health Sciences in MSPH/MBA, MSCR/MBA, and BBA Health Care Management/MSPH
Outlined future dual MBA programs with the College of Arts and Science in Sports Management and the Jerry M. Wallace School of Osteopathic Medicine
Raised funds to support numerous new scholarships to support business students
Litigation associate

Private practice partner
U.S. Navy as a nuclear power plant operator aboard the U.S.S. Billfish
Instructor in the Nuclear Power Training Unit in Charleston, S.C.
Biography
B. Keith Faulkner joined the Liberty University family on October 1, 2015, as dean of the School of Law. Prior to coming to Liberty, Faulkner gained valuable experience during his tenure at Campbell Law School. His team prepared students to lead the state in both first-time bar passage on numerous occasions and in overall bar passage during his nine years at Campbell Law.  He served as the law school project manager for the construction/repurposing of a 110,000-square-foot law school facility and coordinated all logistics to support the move of the law school from Buies Creek to downtown Raleigh, North Carolina.  While Faulkner was interim dean, Campbell Law realized the institution's highest rankings as a top-tier law school in U.S. News & World Report's Best Graduate Schools 2014 guidebook; competed for three national championships (earning the title at the 2013 South Texas Mock Trial Challenge); created the Campbell Connections Mentorship Program, Public Interest Fellow Program, and the "Study & Service in Panama" mission trip; established the Norman Adrian Wiggins Law Faculty & Staff Endowed Scholarship; enjoyed a 100 percent faculty and staff participation in the annual university-wide employee giving campaign; and added nine new endowed scholarships.
Faulkner holds a J.D. and M.B.A. from Campbell University.  He has also earned an LL.M. in Litigation Management from Baylor University School of Law and a B.S. in business administration from Charleston Southern University.
Professionally, Faulkner enjoys developing effective and exceptional teams that deliver superior education and support to students.  Personally, he enjoys spending time with his wife, Patty, and his three children, Hannah, Erin, and Ryan.