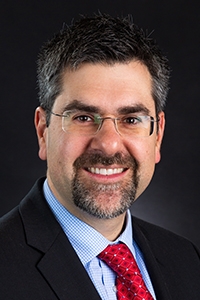 Associate Dean for Academic Affairs, Professor of Law, Director of the Constitutional Litigation Clinic 
Education
J.D., University of Tennessee College of Law, magna cum laude
B.A., University of Virginia
Areas of Interest/Teaching
Civil Procedure, Foundations of Law, Jurisprudence, Constitutional Litigation Clinic
 Experience
Associate Professor of Law at Liberty University School of Law
Served as Interim Dean
Solo practitioner in private practice where he provided legal research, briefing, and counsel in the areas of constitutional law, family law, criminal law, civil rights, and civil litigation
Litigation Staff Counsel for a public interest law firm in Nashville, Tennessee where he defended the First Amendment rights of students, student organizations, and professors on college and university campuses throughout the country
Served as a Staff Attorney at a public interest law firm in Virginia Beach, Virginia, where he litigated in defense of religious liberty, traditional family values, and the sanctity of human life, 2005-2007
Practiced law with a firm based in Asheville, North Carolina where he litigated in the areas of contracts, community associations, real property, intellectual property, business law, criminal law, and personal injury
Clerked on the Supreme Court of Tennessee for Justice E. Riley Anderson, 2002-2003
Served as a Student Attorney for the University of Tennessee Legal Clinic in Knoxville, representing low-income clients in the Knoxville area
Practiced labor and employment law for a large firm in Atlanta, Georgia
Worked as a law clerk for the United States Department of Justice, assisting the United States Attorney's office with federal criminal prosecutions, 2000
Worked at a public interest law firm in Charlottesville, Virginia from 1994-1997
Licensed to practice law in the states of North Carolina and Tennessee and in a number of federal courts
Publications
The One Fixed Star in Higher Education: What Standard of Judicial Scrutiny Should Courts Apply to Compelled Curricular Speech in the Public University Classroom?, 20 U. Pa. J. Const. L. (2017).
Tipping the Pickering Balance: A Proposal for Heightened First Amendment Protection for the Teaching and Scholarship of Public University Professors, 25 Cornell J.L. & Pub. Pol'y 649 (2016).
First Amendment Enclave: Is the Public University Curriculum Immune from the Sweep of the Compelled Speech Doctrine?, 50 Tulsa L. Rev. 157 (2014).
Bad Blood: San Jose State University's Ban on Blood Drives Reveals Its True—and Dangerous—Agenda, Townhall, August 2010.
Bloody Fight, Washington Times, May 7, 2010.
Biography
Professor Joseph J. Martins joined the faculty of Liberty University School of Law in fall 2011. Before coming to LU, Professor Martins spent five years in public interest law as a constitutional litigator and two years in private practice as a civil litigator.
Professor Martins' research focuses on constitutional liberties in the context of higher education. He is particularly interested in the free speech rights of faculty and students at public universities. Professor Martins has lectured extensively on a wide variety of constitutional issues as well as the jurisprudential foundations of law and of America's legal system. Professor Martins' recent articles have been published in the University of Pennsylvania Journal of Constitutional Law, the Cornell Journal of Law & Public Policy, and the Tulsa Law Review.
Before entering teaching, Professor Martins practiced public interest law with the Alliance Defending Freedom and the National Legal Foundation, working on cases related to religious liberty, the traditional family, and the sanctity of human life. Several of the cases he litigated yielded published decisions in federal courts around the country. Previously, he practiced for a general civil litigation firm in the areas of contract law, community association law, construction law, personal injury law, and property law. He also clerked for Tennessee Supreme Court Justice E. Riley Anderson. Professor Martins received his bachelor's in history from the University of Virginia; he earned his J.D., Order of the Coif, from the University of Tennessee College of Law.
At Liberty University School of Law, Professor Martins has taught Civil Procedure, Foundations of Law, and Jurisprudence, and he also serves as the director for the Constitutional Litigation Clinic.