Types of Requests
Online students, faculty, and staff who do not live close to campus* can request the following items through Interlibrary Loan (ILL):
Books and other items from our physical collections, including scans of journal articles as well as chapters/small portions of books
Electronic delivery of articles or chapters/small portions of books not owned by our library
Electronic resources from the Center for Research Libraries
*Online customers who live in close proximity to campus are required to follow the Residential Students and Staff guidelines. 
---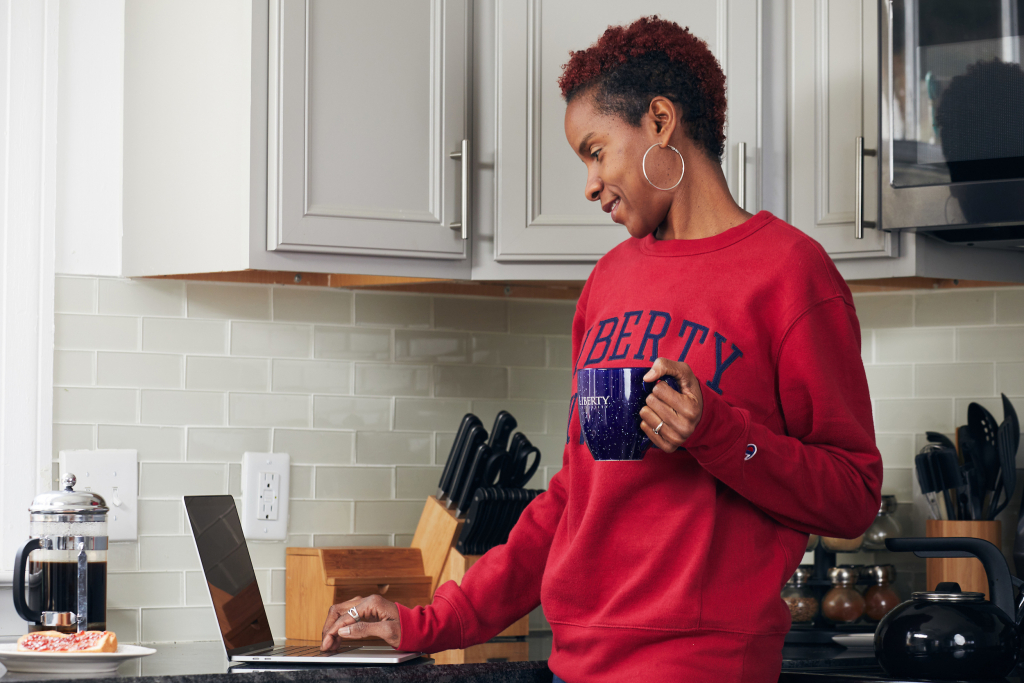 Making a Request
Database Requests
The Get it at Liberty link shown below is found within databases and connects to the ILL account platform, ILLiad.
Once you are logged into ILLiad, choose the request form, and click submit.
Direct Requests
When requesting an item without a database link, you will need to log in to ILLiad. (Please verify your ILLiad account information since it is not automatically updated when you change your Liberty University Online account.)
Before submitting an article request through ILLiad, please search Journals by Name to see if there is immediate full-text access online.
Before submitting a book request:

Check to see if an e-book version is available for immediate full-text access online.

Consider requesting just a chapter or a small portion of the book. We can typically deliver a digital scan from an item available in our own collection more quickly than you would receive a book shipment. If we do not have access to the item, we can request a scan of those pages from another library for you. (Please note that copyright restrictions will apply to scanned portions of print books.)

Fill out the ILLiad request form, verify your current mailing address, and click submit.
Request Limits
While there are checkout limits for materials requested from our collections, there are no limits to ILL requests for articles obtained from other libraries. However, due to workload demands and time constraints, the processing of some requests may be delayed.
---
Renewing Items
---
Canceling Items
If you find that you need to cancel a request, log into your ILLiad account and follow these steps:
Under the View menu on the left, select Outstanding Requests.
Click on the Transaction Number of the request.
Click Cancel Request at the top of the page.
If a physical item has already been shipped to you, we will not be able to cancel the shipment. You will need to refuse the shipment when it arrives or otherwise work with the carrier to ship it back yourself.
---
Retrieving Requested Articles
You will be notified by email when your requested articles are available to be accessed in your ILLiad account.
After logging in to your ILLiad account, look under View, and click on Electronically Received Articles.
---
Receiving Books & Other Physical Materials
Available books and audiovisual materials requested from our collection will be shipped to online students, faculty, and staff.
Books are usually shipped either the same day or the next business day after the request is received.
Books are shipped in an expedited manner (i.e., FedEx, UPS Express, or USPS Priority mail) and should typically arrive within two business days.
Overnight shipping is available upon request, but customers must pay for this higher shipping option.
Books borrowed from other libraries through Interlibrary Loan can only be picked up and returned in person at the library.
---
Returning Books & Other Physical Materials
Ship items back to the Jerry Falwell Library so that they arrive by the stated due date:
Liberty University Jerry Falwell Library
1971 University Blvd
MSC Box 710172
Lynchburg, VA 24515
To avoid paying fees for lost items, we suggest that you return materials using a trackable insured option.
---
Avoiding Fines
In order to avoid overdue fines for items from JFL's collections, return them on time in the same condition they were received.
---
Questions? Contact the Interlibrary Loan Office at 434-582-2442 or illoan@liberty.edu.