The Jerry Falwell Museum is currently closed while it is in the process of relocating.
More details will be coming soon!
The Man Behind the Vision
Jerry Falwell Sr. was a beloved pastor, author, political activist, evangelical leader, family man, and the founder of Liberty University. He was a man whose faith in God fueled a vision that continues to be realized in extraordinary ways.
Since opening on Falwell Sr.'s 70th birthday in 2003, the Jerry Falwell Museum has continued to grow its collection. It contains memorabilia about Liberty's founder with donations from family, alumni, and friends from around the world. Those interested in the history of Liberty University, Thomas Road Baptist Church, Jerry Falwell Sr. ministries, and Baptist traditions in general may also wish to explore the Archives and Special Collections.
From the Desk of Jerry Falwell Sr.
The museum also houses a library of Falwell Sr.'s writings, including books and personal letters.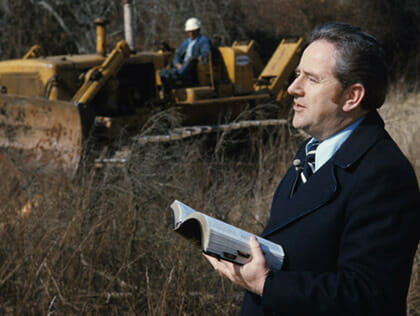 Jerry Falwell Sr. leads a groundbreaking
ceremony on Liberty Mountain in March 1977.
---
"Faith is believing what God says in spite of circumstances. Faith is simply taking God at His Word."
– Jerry Falwell Sr.
---
"Prayer Meeting in the Snow"
on January 21, 1977
Experience the Collection of a Lifetime
At the Jerry Falwell Museum, visitors can experience the life of one of the most significant Christian leaders of the 20th century.
Come and learn about the incredible life and legacy of Jerry Falwell Sr.
---
For more information, contact the museum at JerryFalwellMuseum@Liberty.edu or (434) 582-7578. You can also visit the museum's Facebook page.